are you a coffee lover like myself? you will LOVE this easy way of sneaking some extra caffeine into your morning routine. not only is this mocha protein smoothie bowl, delicious but it's also so good for you too!
the use of evive's smoothie cubes makes the preparation quick and easy for this recipe. in addition, it's packed with extra protein. extra protein means this recipe will keep you feeling more full for longer than your typical smoothie. one of my favorite parts of this recipe is that it satisfies my chocolate cravings. however, the cashew mocha cubes aren't too sweet making it the perfect start to my day. it is breakfast after all!
you can order your smoothie bases here so that you never have to deal make your own smoothie base again. for this recipe you will need their cashew mocha cubes to create the smoothie base.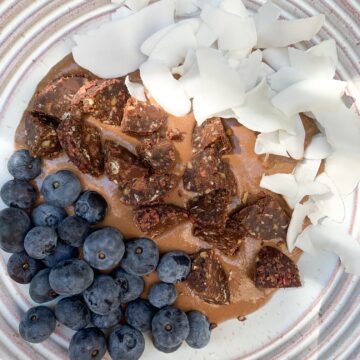 mocha smoothie bowl
imagine this, you don't just have your coffee with your breakfast...you have it IN your breakfast! this healthy smoothie bowl is packed with protein and perfect for the chocolate lover. i know that i prefer to start my day off with something sweet and this recipe is perfect to keep me fueled throughout the morning with an extra caffeine boost.
Equipment
food processor or blender
Ingredients
1

package

evive cashew mocha base

¼

cup

almond milk

to go in blender with cubes

½

frozen banana

to go in blender with cubes

1

chocolate coconut date ball

recipe linked below (optional topping)

¼

cup

fresh blueberries

(optional topping)

¼

cup

coconut flakes

unsweetened (optional topping)
Instructions
take the evive cubes out of the freezer and thaw in the package for 15-20 minutes

place cubes in either a blender or food processor with the frozen banana and almond milk

mix until fully combined and reaches your preferred consistency. i love to have a thicker base but if you would like a thinner base you can adjust by adding more almond milk

transfer the smoothie base from the processor to a bowl

top with your desired toppings - my favorites are a chocolate coconut date ball, fresh fruit and coconut flakes
Notes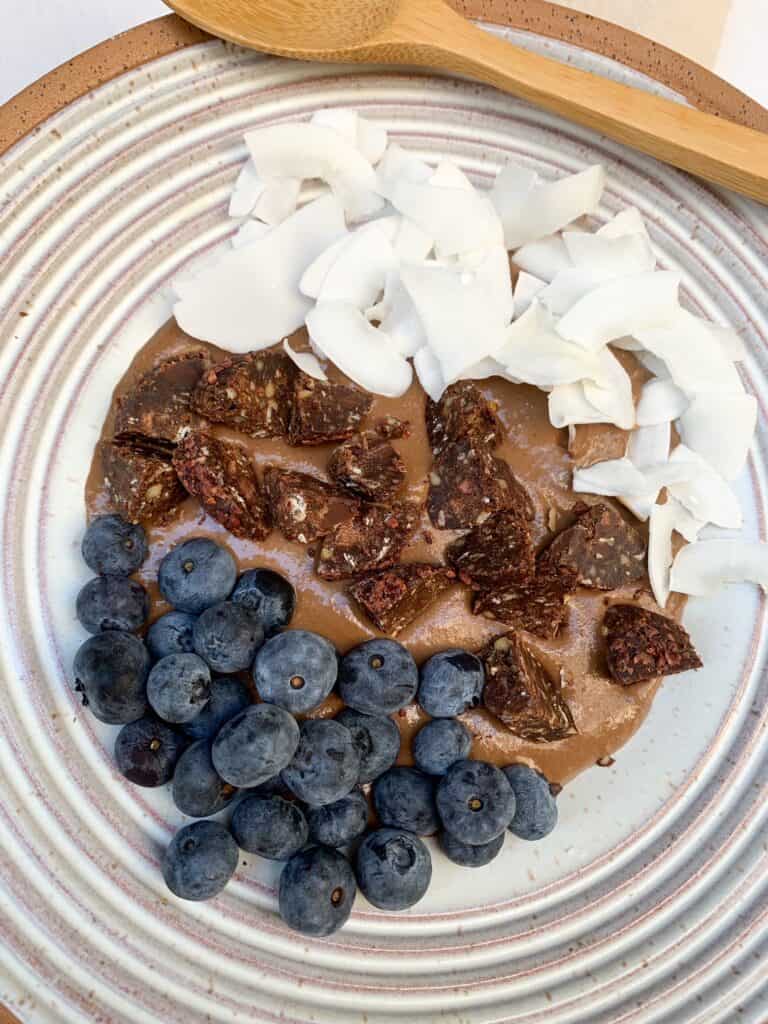 tips and tricks
if you liked this recipe, you will also like my high-protein smoothie bowl that also uses evive's smoothie cubes.
one of my favorite granola recipes linked here! it is a topping on the high-protein smoothie bowl (linked above)
i topped this smoothie bowl with a chocolate coconut date ball. it pairs perfectly with the cashew mocha base, coconut and fresh fruit
you can keep the prepared smoothie base in the fridge if you don't plan to eat it right away
perfect for a hot, summer day whether it's the weekend or a weekday because it is so easy to make!