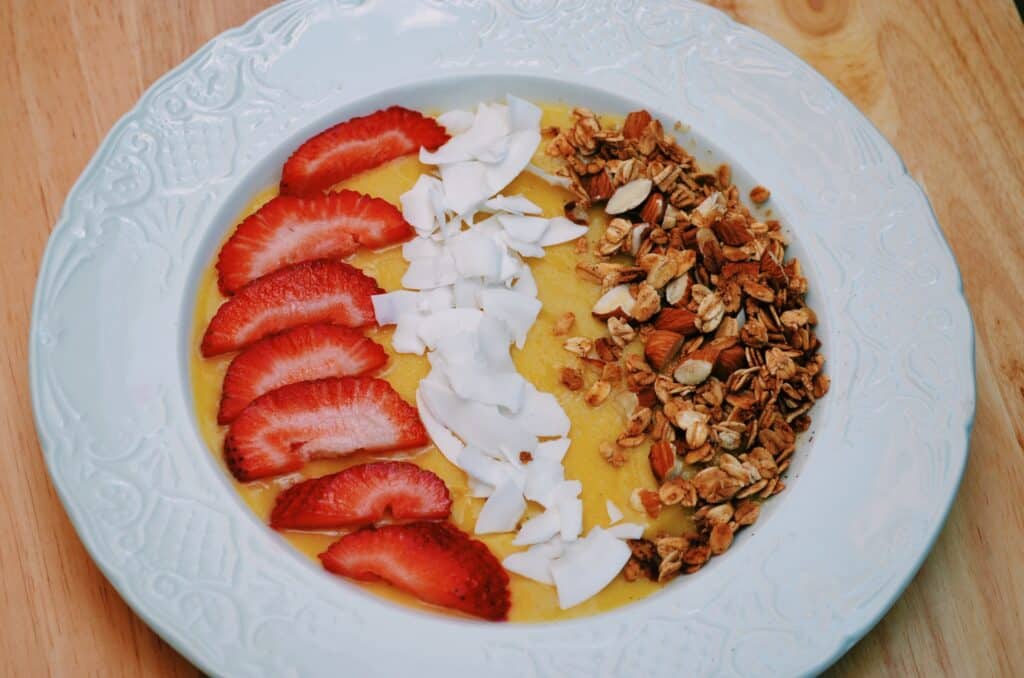 Warmer weather is upon us and I treated myself to an at=home smoothie bowl since it's one of my favorite treats to have for breakfast during the heat of the summer!
For this recipe, I did a banana + smoothie base with some of my favorite toppings : fresh fruit, coconut chips and my go-to granola recipe when I just need something crunchy in less than 30 minutes!
Mango Smoothie Base Recipe
Ingredients
2 frozen bananas
1.5 cups of Frozen Mango
1/2 cup of almond milk (or your preferred choice of milk)
Directions
Put all ingredients in a blender or food processor (only 1/4 almond milk to start)
Next, blend ingredients until creamy 🥰 I first start with half the milk then add the rest as needed until desired consistency is reached
Scoop half into a bowl to eat now and you can freeze the rest! Or you can have it all, no judgement here 🥳
Top with your favorite toppings that make your stomach happy! (Like my Quick 1 Serving Granola Recipe below!)
Quick 'N Easy 1 Serving Granola
Ingredients
1/2 cup of Rolled Oats
1/2 Tbsp of Maple Syrup
1/4 cup of Chopped Almonds
Cinnamon
1 tsp of Vanilla
Directions
Preheat oven to 325 degrees F
Line a baking sheet with aluminum foil and non-stick spray
Next, mix all ingredients in one bowl until the oats and almonds are completely covered with syrup, cinnamon and vanilla
Spread in an even layer on the baking sheet
Bake in the oven for 10 minutes then mix it around and spread in an even layer again
Repeat this except checking every five minutes or less until it gets to a perfect crunch
Last but not least, remove from oven and let cool before adding to your smoothie bowl!
This recipe can be used for granola on yogurt, chia seed pudding, other smoothie bowls, sweet toasts or oats! Besides being incredibly versatile it also helps when you're in a time crunch without sacrificing on healthy ingredients and a delicious flavor!