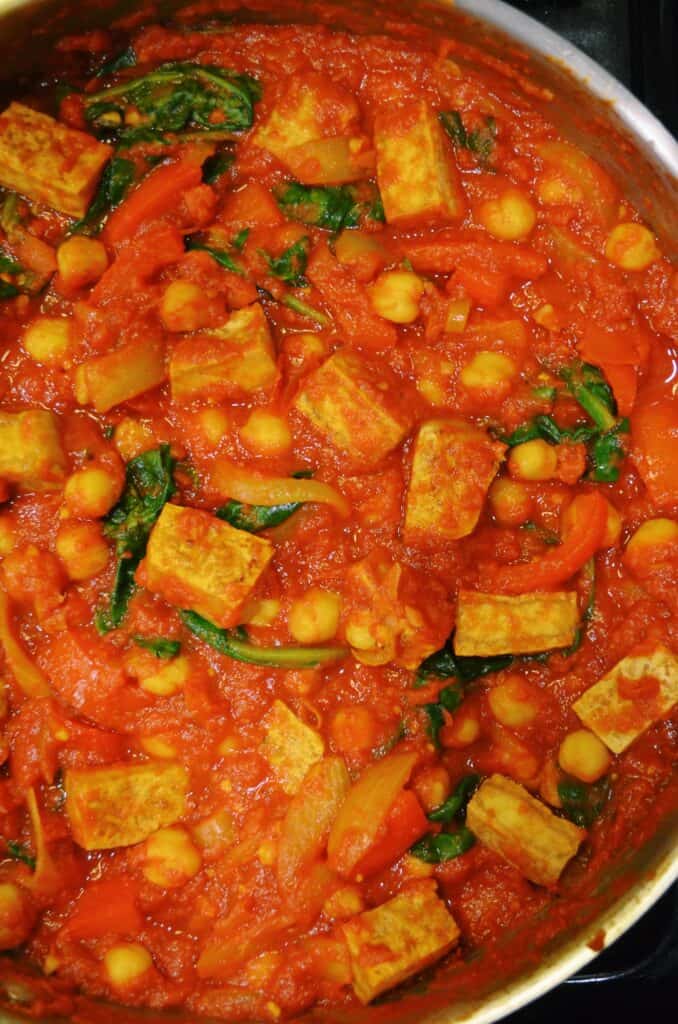 I'm guessing you're here because you're like me and can't resist a good Shakshuka when it's on the brunch menu. Lately, more people have been choosing to stay and cook at him, which is one of the reasons I decided to create this recipe myself. Also because shakshuka cravings hit weekly for me…
Shakshuka is such a great dish because you can truly add any ingredients and flavors to make it your own! You can make this recipe for brunch, lunch or dinner because there are no rules here! This recipe will walk you through how I made my plant-based version of shakshuka but feel free to keep it classic with eggs or make it completely your own, like I said…no rules here!!
So let's not waste any time that could be spent eating some tasty Shakshuka!
Ingredients
Tofu of your Choice (I buy extra firm)
Sweet Onion
Red Pepper
Chickpeas
Garlic (minced)
Onion Powder
Garlic Powder
Cumin
Cayenne
Paprika
Tumeric
Salt (to taste)
Chickpeas
Hunt's Crushed Tomatoes
Hunt's Tomato Paste
Spinach
Directions
Preheat oven to 425 degrees F
Heat a little olive oil in the pan and start sauteing your mixed garlic over medium heat
Chop onion and peppers and add into the pan
Prep tofu (should be already drained of liquid) and cut into 1 inch cubes
Put tofu on a lined and greased baking sheet and cook for 15 min on both sides until crispy
Once both the onion and pepper are softened and the onion is translucent, add in one can of chickpeas (after being rinsed and drained
Add in all your spices / seasonings
After a few minutes, add in the crushed tomatoes and tomato paste
Mix until combined and let simmer for 15/20 min
Remove the tofu from the oven and let sit while the dish is simmering
Add in spinach and then tofu once spinach is wilted
Cook another 5 min to let the tofu absorb the flavor
Let cool slightly and enjoy with your favorite Shakshuka bread (or not if that's how you roll)
Enjoy!
I truly enjoyed not only eating this dish but the process of making it! It's pretty easy to do at home and definitely worth it to bring Shakshuka back into my life when I can't go brunching on the weekends or during the week!
I hope you enjoy and please share your recreations with us via Instagram (@feastytravels) or you can email any pictures to us as well ([email protected]) Happy Cooking!