Even though the holidays are over, the air is still cold and we need dishes to keep our bodies warm and stomachs full! This vegan pumpkin chili does just that AND more. The variety of vegetables give you the nutrients and energy you need to get through the rest of your day + fuel your body. You can add meat, such as ground turkey if you want to add extra protein, but this vegan chili is also fulling as is!
Ingredients
2 cloves of garlic, crushed
1 TBSP olive oil
1 can of chickpeas, rinsed + drained
28oz can of hunt's crushed tomatoes
1 can organic pumpkin puree
2 cups of kale, chopped
zucchini, sliced and quartered
1 tsp cumin
1 tsp cinnamon
3 tsp onion powder
2 tsp garlic powder
1 tsp pumpkin spice (pumpkin chili, duh!)
dash of cayenne (to your spice level)
Directions
Heat the olive oil over medium heat and add in the garlic
Cook the garlic until caramelized then add in the chickpeas
Cook for ~5 min or until the chickpeas are warmed / softened
Pour in the crushed tomatoes + pumpkin puree, stir until fully combined
Add in all spices and cook for ~15 min on simmer
Finish it off by adding in the kale and cooking for an additional 5 min
Let cool slightly + enjoy!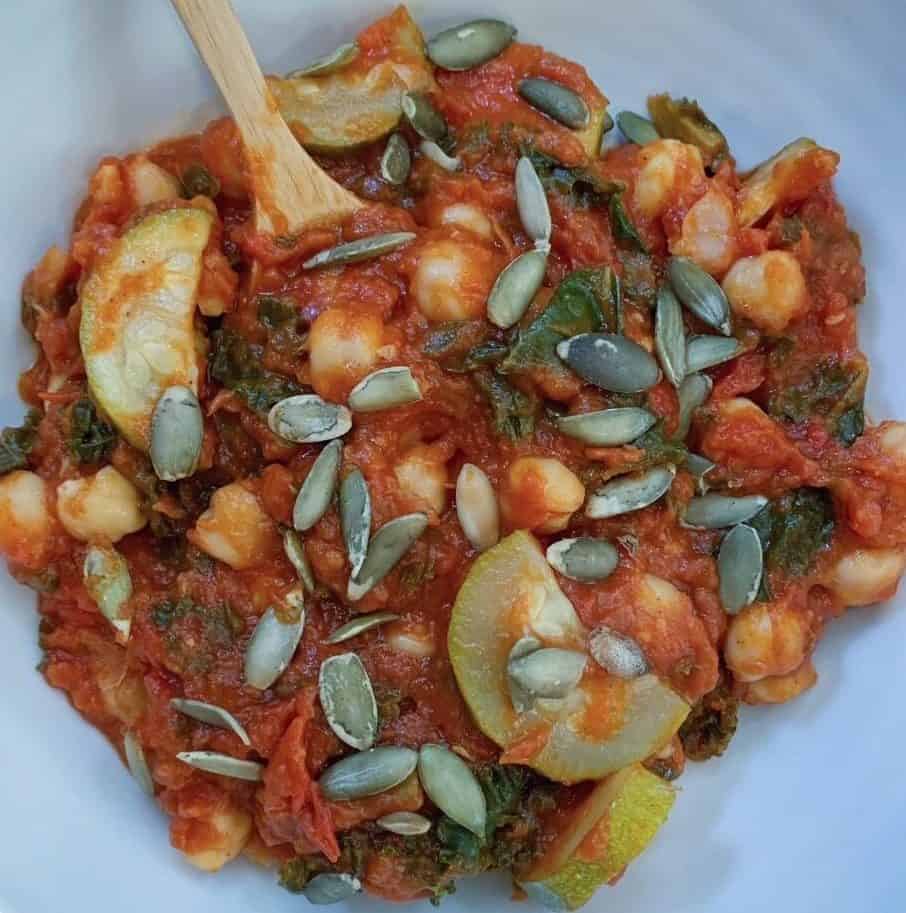 Notes
This vegan chili has a savory base with slight hints of sweetness from the cinnamon + pumpkin spice
You can also add in butternut squash or sweet potato instead of the pumpkin
Sub the kale for spinach (or really any leafy green) if that's all you have on hand, frozen is fine to use as well
Great for meal prepping on the weekend or easy to whip together during the busy days of the week as well! This recipe is low maintenance but still full of so many delicious, winter flavors.
If you liked this recipe, you should also try: spiced lentil curry, shakshuka or my roasted vegetable + wild rice bowl