Some might have a different opinion, but I think one of the best treats to ever exist are PB Cups! Maybe it's my huge addiction to peanut butter or my daily need to have dark chocolate causing a biased opinion but I still think tons of people would agree with me!
However, there were two downsides to eating these PB Cups, the low protein and the list of processed ingredients. Not that these stopped me from eating them…but I'm all about indulging in treats while still fueling your body with healthy ingredients. So here we are! I wanted the recipe to only use necessary ingredients without sacrificing any flavor. I used PB powder to create the peanut butter part, which increases the amount of protein and reduces the amount of calories. For the chocolate topping of the PB Cups, I used Enjoy Life semi-sweet chocolate chips to avoid any added ingredients to the chocolate layer and it is naturally dairy free.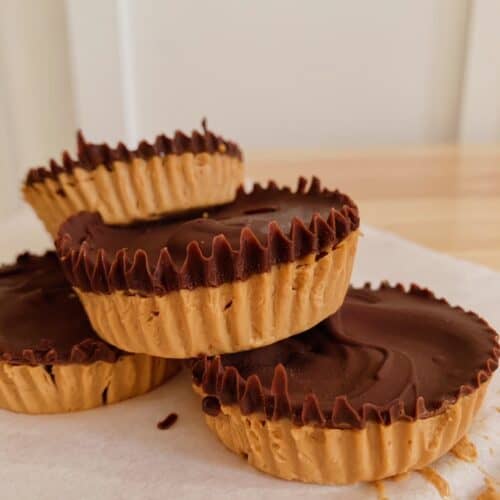 healthy and high protein pb cups
this recipe is for both the peanut butter and chocolate lover! i have such a sweet tooth and always have to end my day on a sweet note. this recipe is the best of both worlds, giving you something creamy as well as a nice crunch from the chocolate! just three ingredients, no baking, and did i mention that they are healthy and high in protein?!
Ingredients
1/2

cup

peanut butter powder

i use trader joe's brand but any will work!

1

cup

water

to be mixed with the pb powder

1/4

cup

chocolate chips

melted, i use enjoy life brand semi-sweet chocolate chips but you can use anything you want
Instructions
get a cupcake tin and line 6 cups with cupcake holders

mix the peanut butter powder with water until you get a perfect peanut butter consistency

pour the peanut butter mixture into the cupcake tins and place in the freezer to set (about 30 minutes)

once the peanut butter is set, melt the chocolate (I just use a microwave) and pour in an even layer on top of the peanut butter

put the pb cups back in the freezer for about 20 minutes until the chocolate is set

let the pb cups sit to soften for a couple of minutes and enjoy!
Notes
using a cupcake tin will give the pb cups great shape and a similar look to Reese's pb cups

i like my peanut butter on the creamier / thicker side but feel free to adjust the amount of water based on your preference
i tend to melt the chocolate right before taking the peanut butter layer out of the freezer, no need to do it far in advance
i prefer to let the cups sit for about 5 minutes after taking out of the freezer but you definitely don't have to if you want to dig right in!
additional topping ideas : sea salt, chocolate drizzle, peanut butter drizzle, fresh strawberries, add a jam layer (see my chia seed jam recipe, here!)
Notes
Feel free to use almond butter if you desire. There is almond butter powder but I haven't tried it with this recipe yet!
You could use regular peanut butter or other nut + seed butters for this recipe but it will be higher calorie and different measurements for the ingredients. However, it will still be using natural ingredients which will fuel your body.
If you liked these PB Cups, you will also enjoy : Healthy Fudgy Brownie Loaf