with a lemon tahini drizzle on top
filled with tons of delicious and nutritious vegetables, this vegetable buddha bowl recipe is not only good for you but it is simple and easy to meal prep for the week.
IT IS OFFICIALLY SPRING y'all! i can already feel it in the air (especially since i've been in florida for the past month). we're all more upbeat and ready to take on days with the sun shining above us. however, we are also ready to focus on incorporating more whole foods into our diet, right? if you're like me and struggle to make time to cook during busy days...this vegetable buddha bowl is for you! are you constantly in a time crunch during the week and need something nutritious to get you through the day? this recipe will be a life (and time) saver! or you might just be craving a delicious bowl filled with tons of veggies. and i LOVE that! you can easily meal prep the ingredients for this vegetable buddha bowl on the weekend and then throw it all together during the week.
this bowl features one of my favorite plant-based snacks, Bada Bean Bada Boom, broad beans! They are high in protein and the perfect addition to give this bowl some extra crunch. they offer so many different flavors, both sweet and savory. my favorite ones to use in this bowl are the garlic & onion, sea salt or the everything bagel. but you really can't go wrong with any of them!
another one of my favorite parts about this bowl is the variety of textures. you get the crunch from the broad bean snacks, as well as from the tofu. the roasted broccoli is perfectly crisp on the outside which contrasts the fresh cherry tomatoes and spinach, which add lightness to the dish. this vegetable buddha bowl is so easy to prep each of these ingredients ahead of time for when you're extra busy during the week. you'll have a healthy meal that's not only good for you but tastes good tool!
let's get cooking, shall we?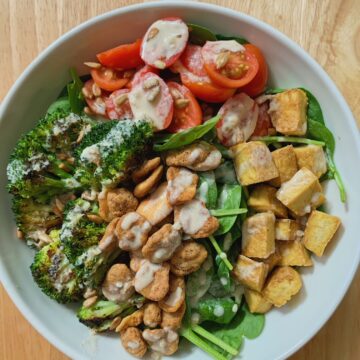 vegetable buddha bowl with a lemon tahini dressing
filled with tons of delicious and nutritious vegetables, this recipe is not only good for you but it is a simple and easy recipe to meal prep for the week.
Ingredients
1

bag

spinach

1

package

tofu, extra firm

pressed and cubed

1

bag

frozen broccoli

5

bags

bada bean snacks

optional, i use one bag per serving to add a good crunch factor

1

cup

sliced cherry tomatoes

¼

cup

tahini

2

tbsp

lemon juice

½

cup

roasted sunflower seeds

my favorite are the roasted + unsalted sunflower seeds from trader joe's
Instructions
prepare the tofu : place the tofu in between two paper towels then add a heavy item right on top for about 20 minutes to get out the excess water. i like to use a big pot / pan when doing this

preheat oven to 400 degrees F

add foil to a baking sheet and spread the frozen broccoli in an even layer

drizzle olive oil and mix until all are coated

roast in the oven for 20 minutes then flip

at this point you can also add your cubed tofu onto the tray as well

put back into the oven for 10 minutes, flip the tofu and then bake for another 5 minutes

combine the tahini and lemon juice until fully incorporated. you can also add in a little bit of water to thin out the dressing depending on your desired texture

once the tray is cooled slightly. grab your bowl and add in the spinach, roasted broccoli, sliced cherry tomatoes, crispy tofu, bada beans and sun flower seeds

drizzle on the dressing and ENJOY!
notes
you can add or subtract ingredients based on your personal preferences / allergies. a great addition would be some roasted sweet potato or sautéed onions.
sub any seeds / nuts depending on preference, i love the roasted sunflower seeds for both their flavor and size
the broad beans and tofu tag team to make this a high protein meal, perfect if you're vegan / plant-based
add roasted garlic to the lemon tahini dressing if you're a garlic lover like myself
if you liked this recipe, you will also like my roasted vegetable wild rice bowl and lentil bolognese