IT'S SPRING TIME IN NYC! my trip was everything but spring flowers and sunshine. it rained the entire weekend... with that said, i still had an AMAZING time. you might be thinking, how was that possible when majority of the time you couldn't step outside without getting drenched? WELL, the nyc food was amazing everywhere i went. now that i think about it, there wasn't one spot that i wouldn't go back to.
this blog post will take you through all of the nyc food spots that i went to, what i ordered and why you should check it out as well! this isn't just a regular food guide, it's the must eat places in new york city for spring.
breakfast / brunch
elea, upper west side
elea has a beautiful outdoor seating area as well as a indoor dining. as it was a saturday, they were serving brunch and brunch happens to be my favorite meal. not only that, they had a two guys playing string instruments for the perfect background noise. now back to the food...
the greek style shakshuka is a must try! the stars of the dish are the baked eggs cooked in a delicious sauce filled tomato, peppers and feta cheese. the spices were immaculate, binding all the ingredients together. toasted homemade bread is served on the side but i didn't hesitate to order an extra side of pita. you can never have too much bread for a shakshuka!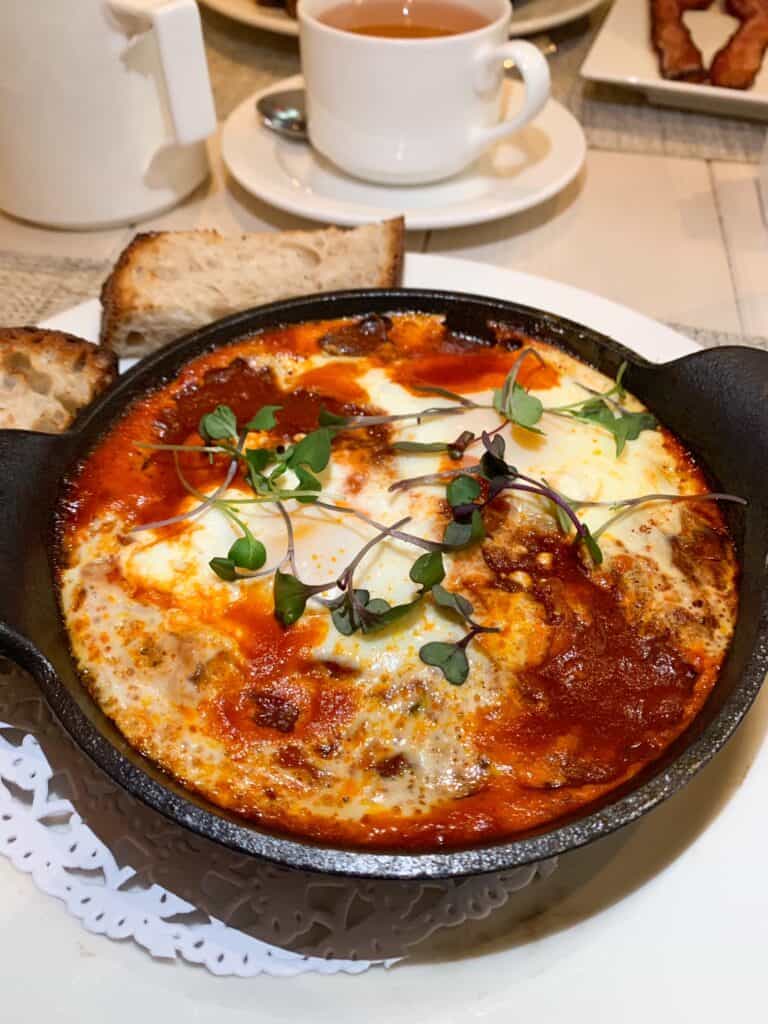 another menu item, that is a must try was their greek yogurt. when ordering, you get a choice of honey + nuts or topping or honey + cherries (fresh berries) as a topping. i opted for the cherries due to my nut allergy and it did NOT disappoint. the perfect way to end a delicious meal.
pause cafe, lower east side
pause cafe is an all-time favorite ever since i went over a year ago. not to mention, it is also a favorite spot of gigi hadid's...need i say more? but in all seriousness, they have so many delicious menu items and even ones you can take home with you!
my go-to order is their avocado toast. however, they give it a little extra pizazz then your typical avocado toast. it is layered with hummus, vegan pesto and the star, mashed avocado. when you get it to go, it comes in sandwich form which i LOVED. one of my favorite parts has to be the delicious multi-grain bread that they make in house.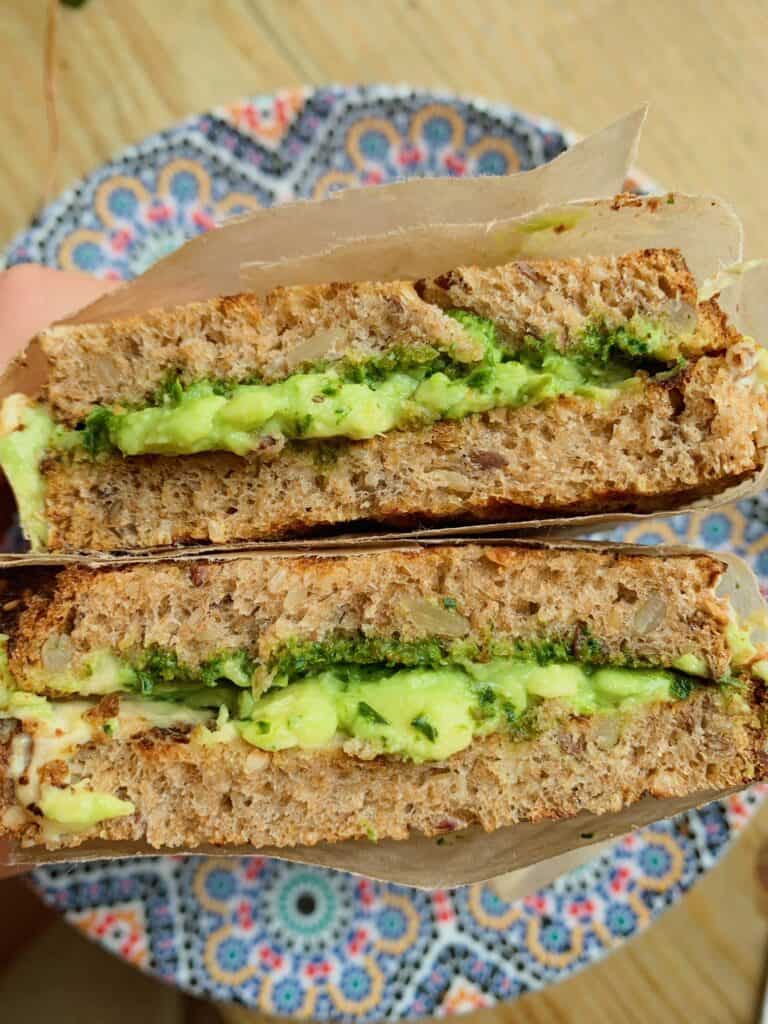 if you're not in a savory mood, don't fret there are PLENTY of options for you to choose from. some highlights: their acai bowl is top notch where you can add extra protein, nut butter, fruit...pretty much anything your heart desires!
not to mention, they have a display filled with freshly baked goods. from muffins, cookies, tarts and date energy bites! the last time i was there i figured i would try their date balls. i had never tried them before but it was a recent obsession of mine. i chose the lemon coconut, pistachio cashew and peanut butter flavors. you can also buy a package (1 of each flavor), which also is a better price.
now for the review! i don't know if i could choose only one to be my favorite because they were all DELICIOUS. i didn't have high expectations for the pistachio but i actually loved it! if i had to choose one, i'd say the lemon was my favorite because it was light, refreshing, the perfect amount of lemon flavor and perfect for spring time in the city!
banter, greenwich village
oh banter, it's a top spot for an instagrammable brunch. if you haven't been yet, you should definitely check it out! they don't have a huge menu but there is sure to be something that everyone can enjoy.
what to order out of so many great menu items? start with the greek yogurt bowl, with a subtle maple flavor and topped with a homemade jam, it was simply **chef's kiss** perfection! not to mention a great way to sneak some extra protein into your meal.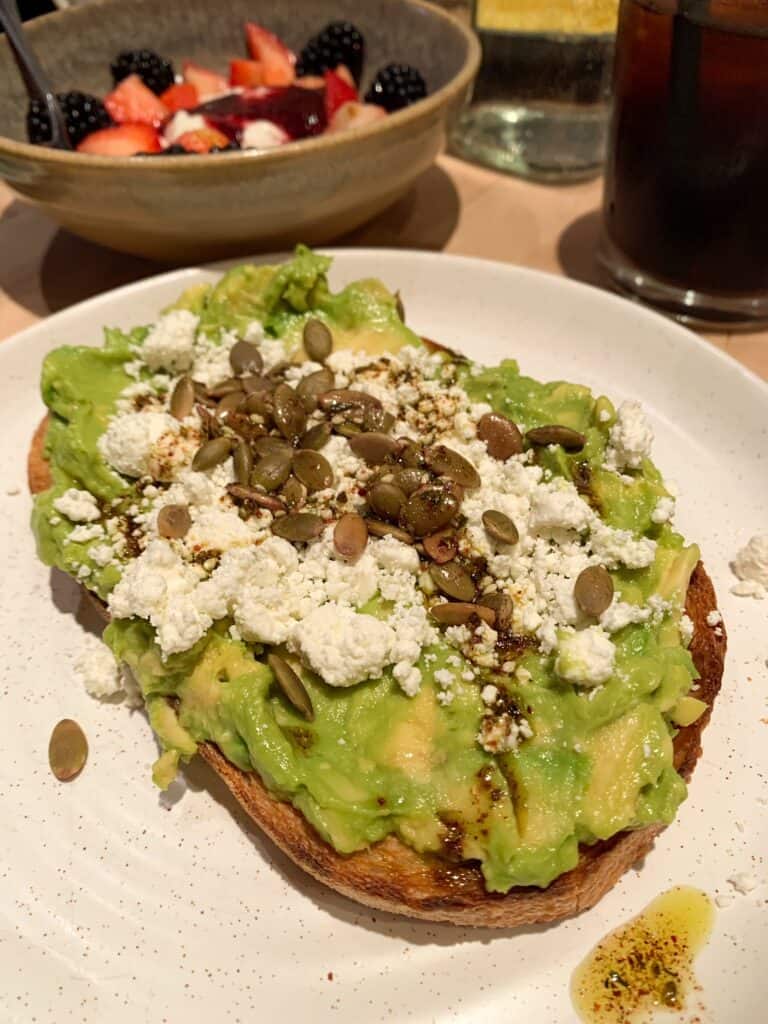 now let's chat about their avocado toast... it has a mediterranean spin on it. it is amazing. the toast starts with a sourdough base and top the mashed avocado. from there, the avocado is topped with goat cheese, zaatar, toasted pepitas, parsley and lemon zest. perfection? i think so! i loved every bite and they DO NOT SKIMP on anything which is a major key of success in my book.
sunflower cafe, flatiron district
sunflower cafe is a small but beautiful spot near the flatiron district. this spot is all over instagram and known to have instagrammable nyc food dishes. not to mention, the quality of their food is just as good as the presentation.
i got their avocado toast topped with two poached eggs as well as the overnight oats bowl. the overnight oats are topped with fresh fruit, almonds and filled with chia seeds. the bowl wasn't overly sweet and was extremely filling. highly recommend these dishes if you're trying to go with a healthier brunch option.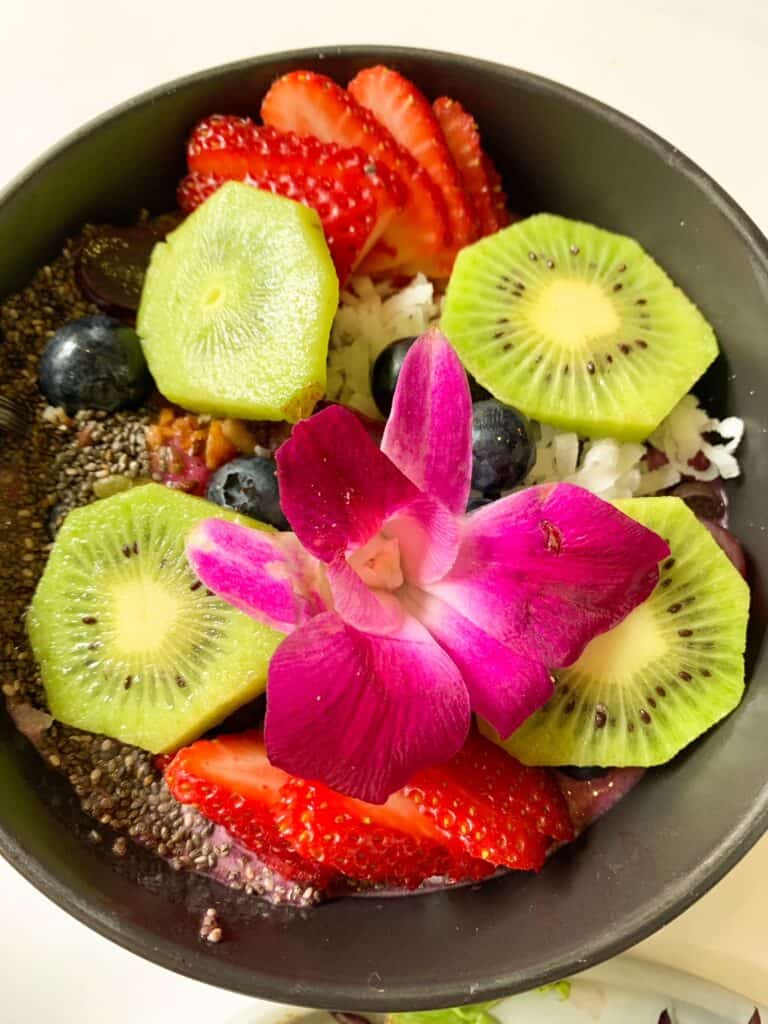 this is the only meal that the sun came out for and it was the perfect ending to an amazing weekend of food. a must try spot! a few other menu recommendations : pancakes, customizable omelet and their acai bowl! it's hard to go wrong at a spot like this.
dinner
aunt jake's, greenwich village
i have been dying to go to aunt jake's for a long time now and finally pulled the plug this weekend. all of their pastas are freshly made in house and i would expect nothing less. from the beginning, i had high expectations of aunt jake's since i've seen countless photos on instagram.
starting with apps, their meatballs are DELICIOUS! not only that, they have a beautiful summer squash salad that is perfect for spring time (i LOVED it!) the salad is topped with pine nuts, dates and cheese (of course). paired with a fresh vinaigrette, this bowl was a great start to the meal.
for the main course, i got their cauliflower gnocchi sautéed with tomatoes and other vegetables, cooked to perfection! this dish is a great option if you don't want anything too heavy but still enjoy the luxury of their fresh pasta.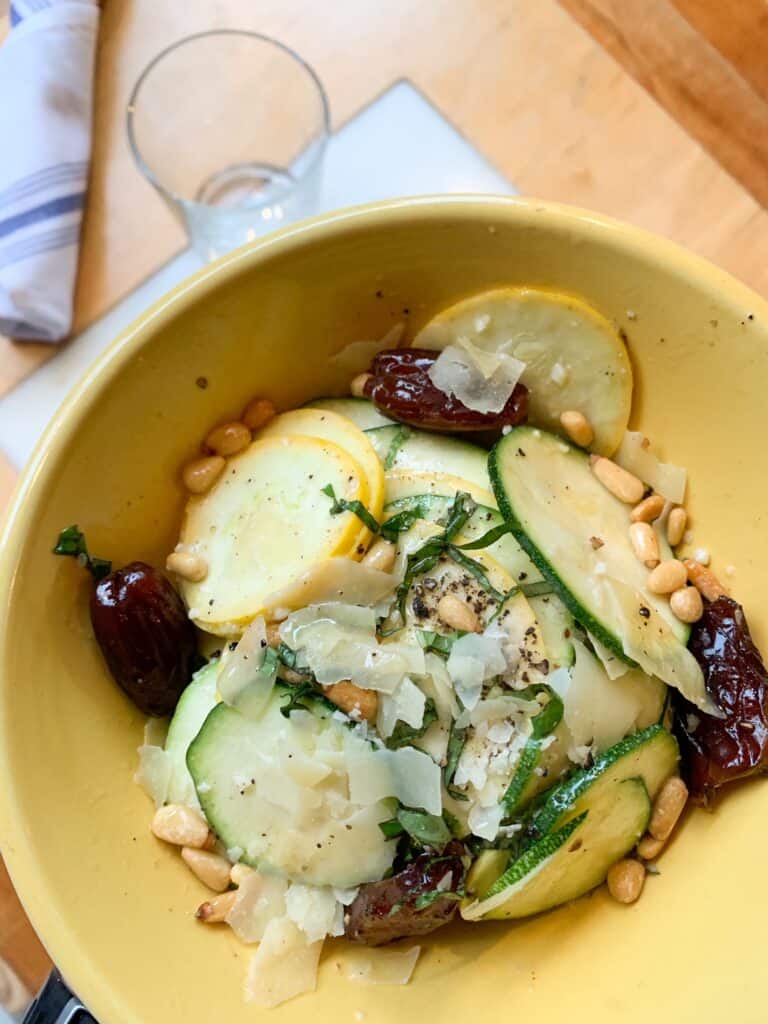 other items to get on the menu : the lasagna - get it, devour it and you will not be disappointed! this spot embodies nyc food from beginning to end. a must try if you ask me!
misi, brooklyn
when you search misi, their whipped ricotta crostini is what will come up. whether it's instagram or google, that's what you'll see first. and it's not overrate so don't even think about not getting it, it is a must try! the ricotta spread is silky smooth and has a delicious flavor. it is more savory then i expected but i couldn't stop eating it. so what does that tell ya? for the spring menu, the whipped ricotta is paired with grilled apricots. the grilled apricots are the perfect addition of sweetness to this savory spread i guess that replaces the honey for me in this dish!.
if you want to try another appetizer, their grilled broccoli is a great choice. (especially if you need to get your greens in for the day) it was truly an amazing starter... covered in breadcrumbs and cheese. what more could you want in a dish?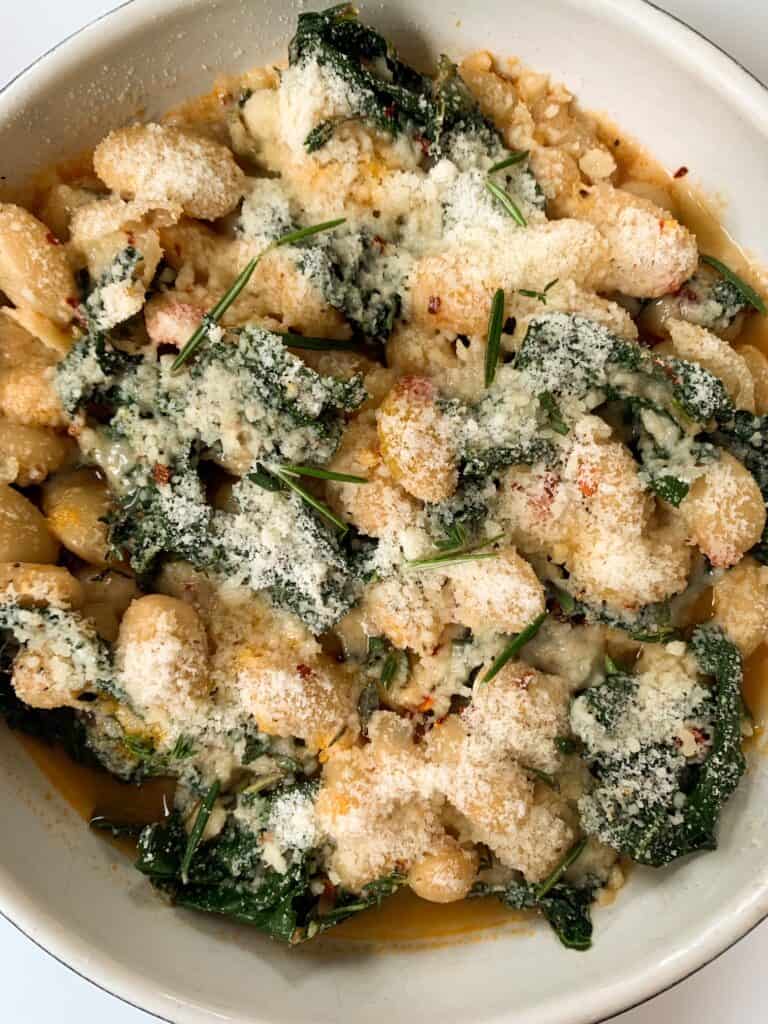 for the main course, trying at least one of their pasta dishes is a MUST when visiting misi in brooklyn. their linguine version of a cacio e pepe is a fan favorite. my personal opinion? DELICOUS.
another dish to try on the menus is the kale + butter bean shareable (i ate the whole thing myself). the butter beans are cooked to perfection and go great with the sautéed kale. the butter beans are covered in a pile of grated cheese and some pepper flakes to add a kick!
one of my favorite things about this spot is that they never skimp on cheese, ever. i will never complain about that.
dessert
chloe's fruit, union square
it wouldn't be a complete list of must eat places in new york city without highlighting a dessert spot! i have been wanting to try this spot since i have been seeing it all over instagram! it was delicious and a great option when you're craving something sweet but also trying to make choices that are on the healthier side.
my order : banana soft serve topped with peanut butter and fresh bananas (deeeeeelish!)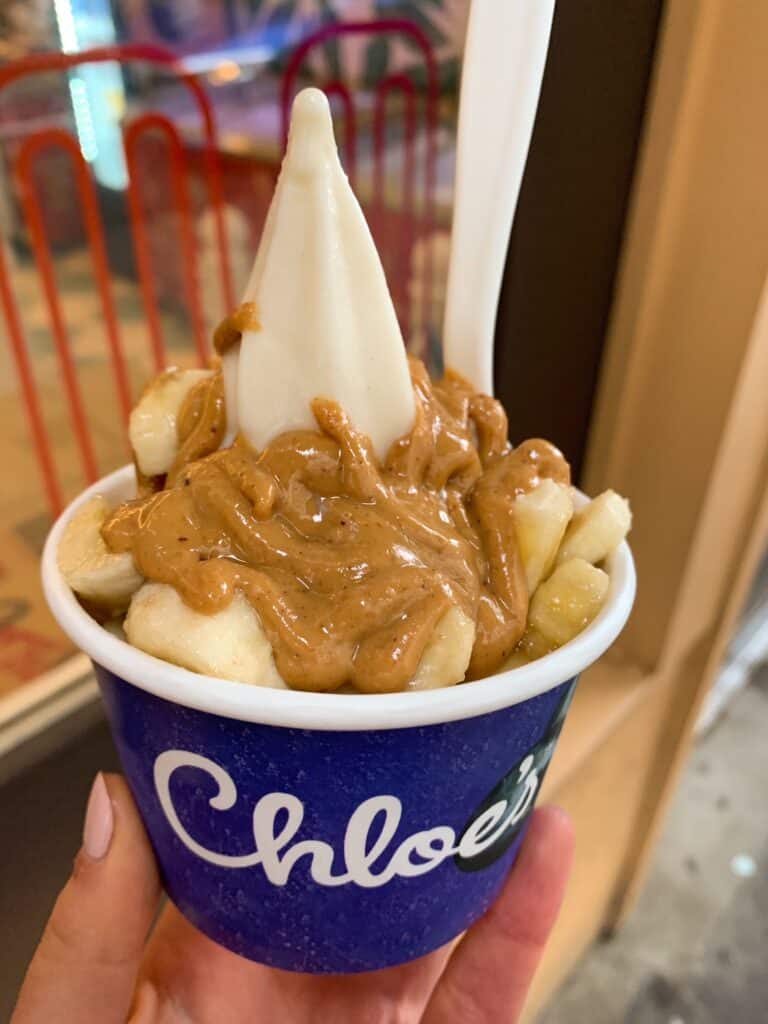 things to do (while not eating at the best nyc food spots)
visit the latest nyc hangout spot! it's called : little island and right on the hudson river in new york city! walking around here is a great way to get some steps in between these nyc food spots
walk along the highline
check out chelsea / gansevoort markets
get up early to walk around chelsea - it is empty, peaceful and incredibly relaxing
wake up early to run or walk around central park
get up early to grab a cup of coffee and stroll the empty streets of nyc
wake up early, you won't regret the extra time exploring this beautiful place
go to museums, go shopping and simply embrace the concrete jungle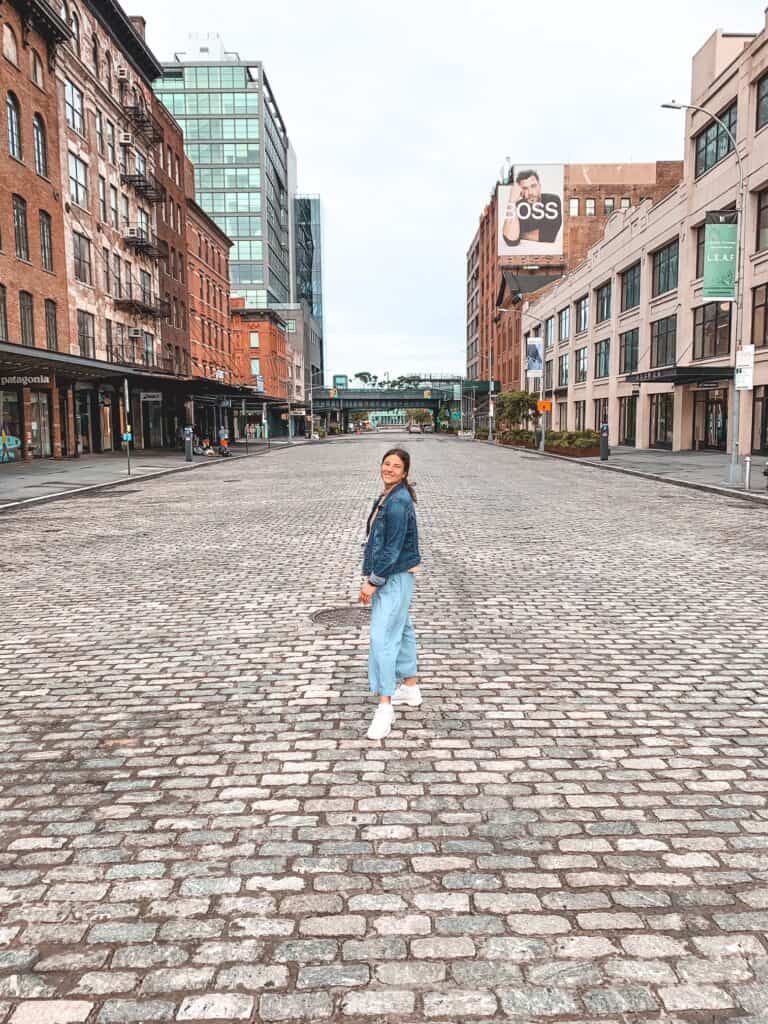 notes for nyc food
if you liked this food guide for must eat places in new york city, check out my other food guides, here!
these must eat places in new york city have a variety of options. whether you're trying to eat on the healthier side or indulge, there is something for everyone!
eat the pasta, savor each bite and wake up each day excited to try more nyc food!
have your own recommendations of must eat places in new york city that i should visit in nyc? leave them in the comments or send me a message!