i have been in tampa for about a month now, and time has flown by. i can honestly say that i haven't had a single bad meal since being here! kinda crazy right? with that being said, it's time to share some of my favorite dinner spots in tampa with you.
disclaimer: i ALWAYS do my research to find the best food spots and being in tampa has been no exception to that! i don't want to go to a restaurant where nothing peaks my interest. hopefully this blog post will inspire you to try a new dinner spot in tampa that you're sure to love!
this blog post will cover a wide variety of tampa food spots. you can find something that everyone can enjoy! from the high-end steakhouses to street tacos, i've tried it all for you!
columbia restaurante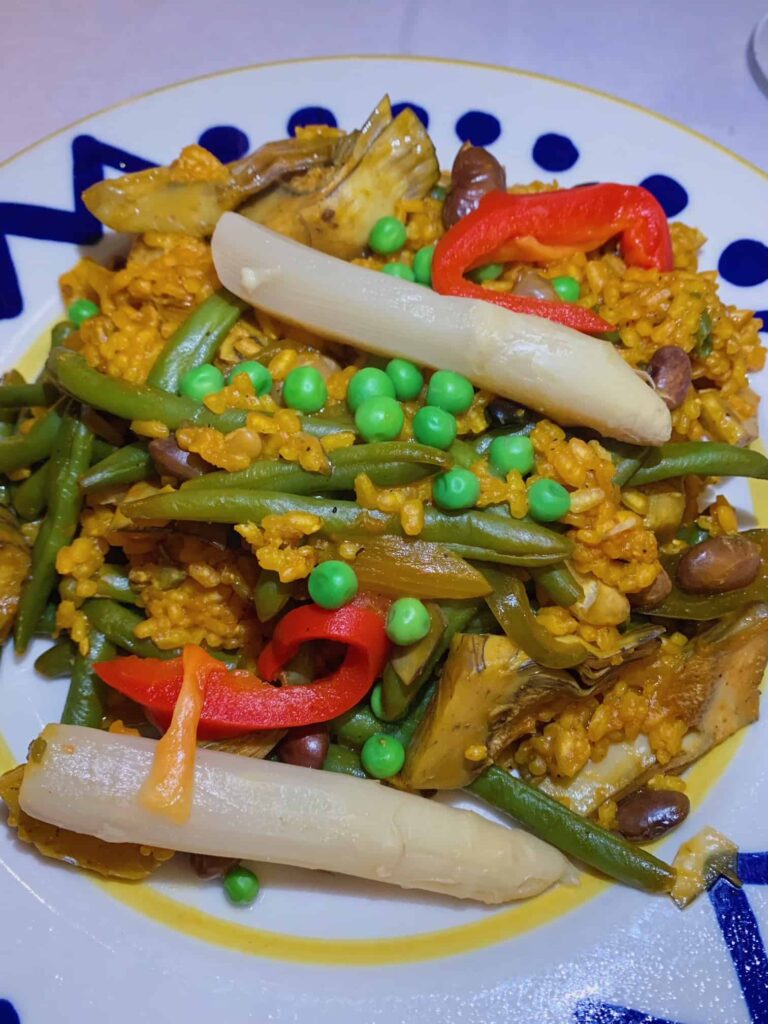 this tampa food spot is located in the historic ybor city. columbia restaurant is also the oldest, continually operated restaurant in florida. WOWZAS, right? it is filled with history, from the decor all the way to the food!
you can simply feel the history and culture just sitting at your table. they also do tours of the establishment as well!
from beginning to end, the food was DELICIOUS and very authentic. i had the vegetarian paella as well as the black bean cakes. both were tasty but if you were to only get one of these, get the black bean cakes.
bern's steakhouse
bern's steakhouse is an experience, a must try if i might add! this is a dinner spot in tampa that you don't want to miss. i can promise you that! also, make a reservation in advance or come super early because they will get all booked up! most importantly, don't forget to save room for dessert! they have an entirely separate dessert room that they will reserve just for you.
wondering where to start? start with their cheese plate! the cheddar was my favorite, but you can never go wrong with a good goat cheese, right? with all entrees they give you french onion soup, salad and a bunch of sides! for my main meal, i got their spaghetti and meatballs. i already know what you're thinking...but let me explain!
the meatballs are made of lentils, squash and chickpeas on top of spaghetti squash and carrot noodles. sounds good already? it's also accompanied by bern's farm greens in a parmesan brodo broth. it was DELICIOUS! and don't worry, a5 wagyu tenderloin was also present on the table - worth every penny.
got any room left? good! i hope so because it's time for dessert. i tried three of their desserts! the baked alaska, creme brulee and 12 layer chocolate cake. all absolutely stunning and delicious but my favorite was the cake of course.
m.bird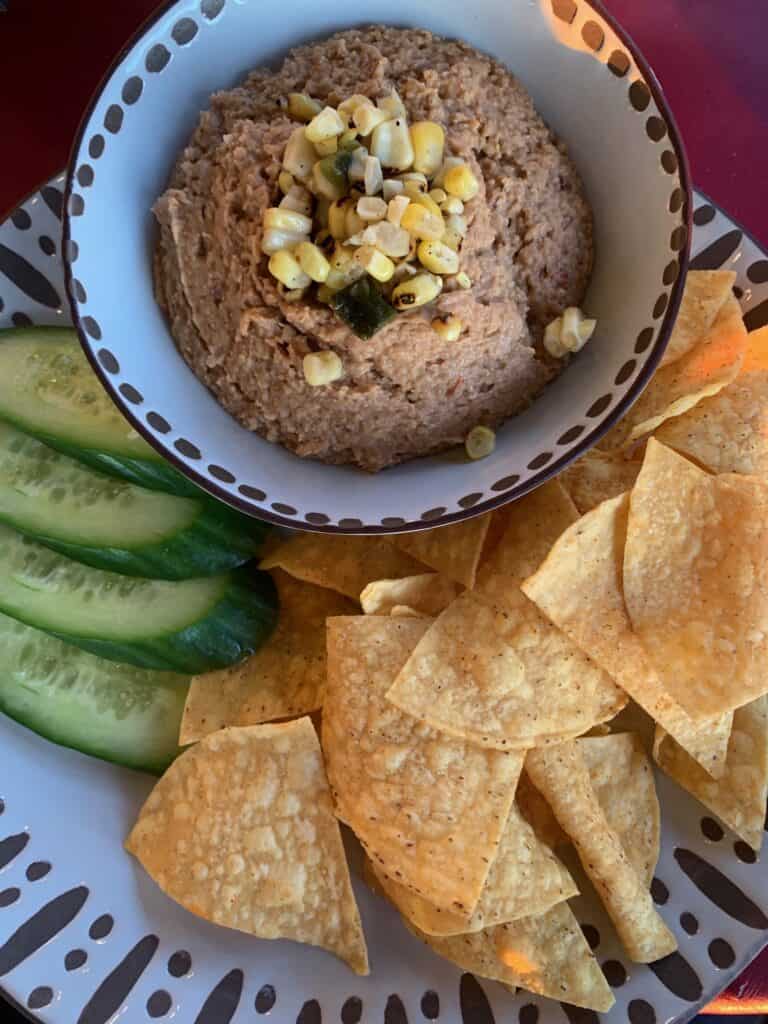 a rooftop bar, perfect for a bite to eat. as well as having drinks with an amazing sunset view! the spicy black bean hummus was a huge win in my book. lastly, the southwest flatbread and beef sliders were favorites to finish off the night.
noble crust
first of all, noble crust has a special place in my heart! their skillet garlic knots are a must try. NO QUESTIONS ASKED! i also tried their meatballs and crispy brussel sprouts, nothing will disappoint you. their short rib bolognese is also a fan favorite.
please don't disappoint me by not getting their skillet cheesy garlic knots...i still have dreams about them.
muchachas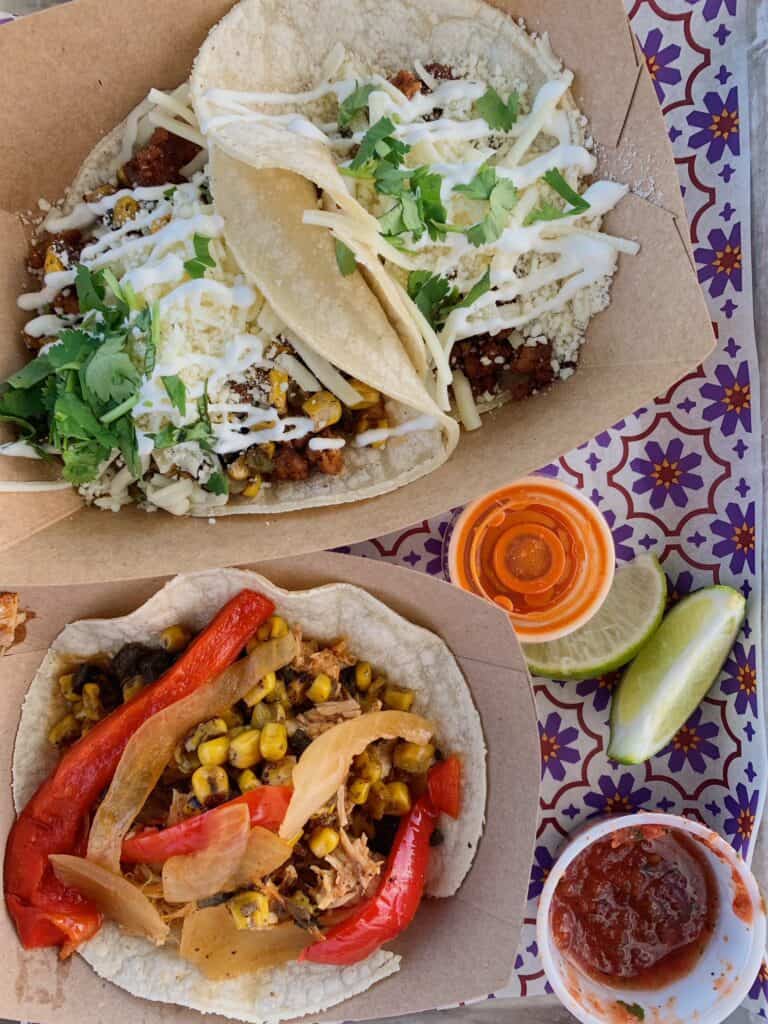 amazing tacos. don't miss out! my favorite is the pollo tacos and you get to add all the goods that you want to on top. the chorizo is swell as well 🙂 you can also accompany your tacos with some chips + guac because why not?
water + flour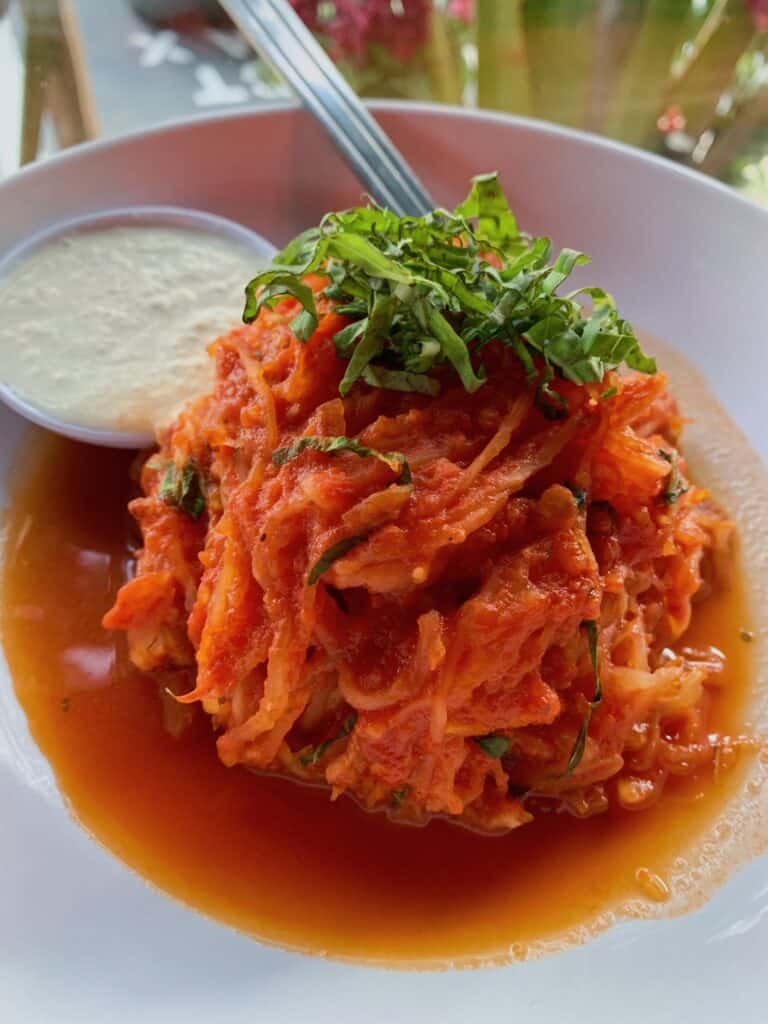 ok, i went here TWICE for dinner...TWICE and i feel no shame! they have two menus, one being water and the other flour. the water menu has a more asian / mexican vibe while the flour menu features all the pizza, pasta and carb loving dishes.
first, let's start with water! the chips and guac were amazing. the truffle parmesan fries were a hit and their sushi rolls were PERFECTION.
now, the flour side...do not miss out on this menu! i got the basil pomodoro sauce with spaghetti squash as my pasta. however, you can get regular pasta as well with your choice of sauce! and now, drum roll please! their pizza...is made with a SOURDOUGH CRUST. i can't get over it, i won't get over it...it was truly amazing!
summary
you really can't go wrong with any of these tampa food spots. there is so much variety and everything was delicious. i hope this helps you find your next dinner spot in tampa. i already can't wait to go back to all of them for seconds and thirds...
if there's any other restaurants for dinner in tampa that you think i should try that aren't on this list, just let me know! as always, leave a comment + rating, subscribe to my page and follow me on instagram (@feastytravels) for more food-related content!
if you liked this post, check out my other food guides here 🙂