we all have that dish that we can never pass up when eating out at a restaurant. mine? a warm feta dip. it NEVER disappoints! now this kind of dip typically come with pita bread. however, i've recently discovered kibo food's chickpea chips and i can't get enough of them! they pair perfectly with this recipe and guess what! you can even win a variety pack AND amazon gift card for free! all you have to do is enter, read below to find out how :
***GIVEAWAY*** are you interested in winning a variety pack of these chips AND an amazon gift card?! you can enter the giveaway by following the instructions linked on my latest post. I'll link my instagram profile here for you guys to enter! this giveaway is valid through 7/30/21.
now back to the regularly scheduled program… this feta dip! it couldn't be easier to make and it is full of delicious, mediterranean flavors. the feta is baked with olive oil, cherry tomatoes and basil to create the perfect flavor profile for this warm feta dip.
who's ready to dive in with me? get your chips out and let's make this dip!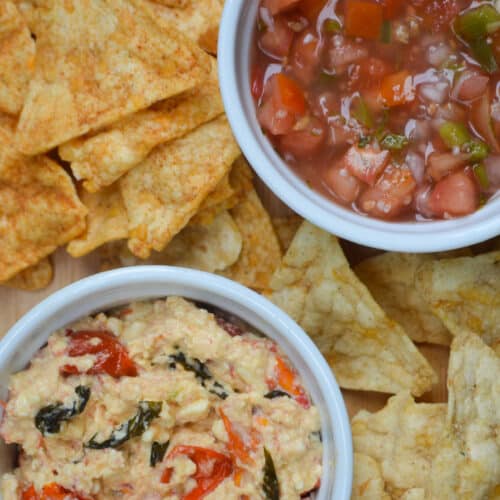 warm feta dip
whether you're in charge of appetizers at a dinner party or just want to have a simple snack at home, this dip is for you! this warm feta dip is the perfect dish that is not only delicious but SO easy to make. in a time crunch? don't worry, this recipe is here to save the day.
Ingredients
1

package

feta

1

package

cherry tomatoes

1/2

cup

fresh basil

1

tbsp

olive oil

kibo chickpea chips
Instructions
preheat the oven to 425 degrees F

place the block of feta in the middle of an 8×8 baking dish

spread the tomatoes around the feta in an even layer and drizzle with olive oil

place in the oven when heated and bake for 15 minutes

check on the feta and rotate the dish 180 degrees. put the dish back in the oven for an additional 10 minutes

remove from the oven when the feta is melty and starting to brown on top

smash the tomatoes and mix with the feta until fully combined and plate in a serving dish or take your chips and go straight into the baking dish (my favorite!)
tips and tricks
best served warm, my preference is to scoop it up straight from the baking dish
additional seasonings to add could be oregano with the basil or red pepper flakes if you like an extra kick!
i love using kibo chips because they're high in protein AND delicious! don't forget to enter the giveaway, here. you will win a variety pack of their chickpea chips + an amazon gift card.
if you liked this recipe, you will also like my watermelon feta salad and feta tomato stuffed shells