featuring keen one quinoa cups
i don't know about you guys but my body has been cravingggggg whole foods and some good veggies lately. my biggest dilemma? feeling too tired or lazy to cut those veggies or make an elaborate meal. THANKFULLY, keen one foods saved the day and these quinoa cups came into my life just at the right time. and that's when i came up with the perfect kale quinoa bowl to satisfy my hunger and taste buds.
plant-based, vegan and gluten-free friendly, can it get cleaner than that?! keen one's quinoa cups use whole ingredients to make an easy, high-protein and delicious meal. and guess what? it only takes 10 minutes to make this entire kale quinoa bowl recipe! i know that's what i've been needing to fuel my body in the best way possible without the dread of making a meal.
need to order some quinoa cups? i'll link them here for you to order! they are reasonably priced for their high quality and the time that you save is worth every penny! ready for this high-protein bowl recipe?
use my code FEASTYTRAVELS to get 20% off of your cup orders!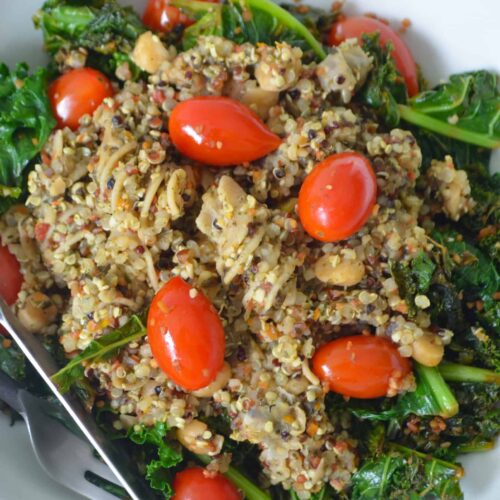 kale quinoa pesto bowl
this easy and delicious recipe is filled with whole foods and clean ingredients making it the perfect meal for lunch at home, on-the-go or to meal prep. it only takes about 10 minutes to make, are you ready?
Ingredients
1

bunch

kale

1/4

cup

cherry tomatoes

1

tbsp

garlic

minced

1

keen one quinoa pesto pasta cup
Instructions
spray a saute pan with non-stick spray and add the minced garlic on low heat

rinse your kale and pat dry

chop the kale into chunks and add into the garlic once it starts sizzling

add in the cherry tomatoes to soften

cook on low until the garlic is caramelized and the kale is wilted, then remove from heat

cook the keen one quinoa cup according to the package instructions

combine the cooked quinoa with the kale and enjoy!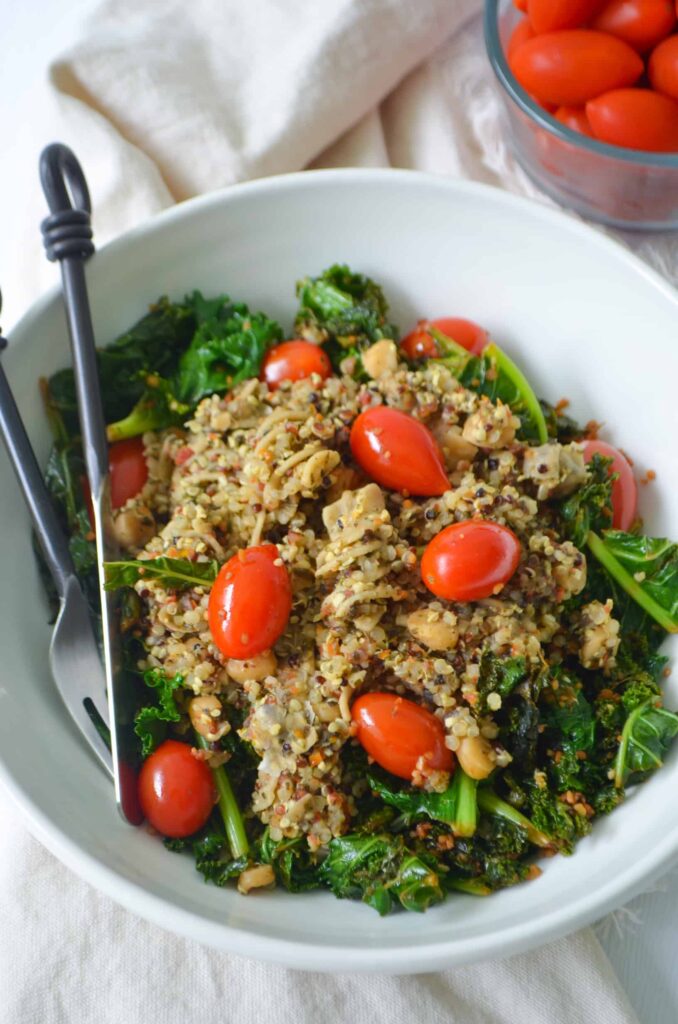 tips and tricks
keen one quinoa cups have so many delicious flavors to choose from, check out the flavors here! don't forget to use my code FEASTYTRAVELS to get 20% off your order.
if you liked this recipe, you will also like my watermelon feta pasta salad and lentil bolognese recipe