this ancient grain bowl is the perfect lunch bowl or side dish during the holiday season. easy to make and filled with nutritious ingredients!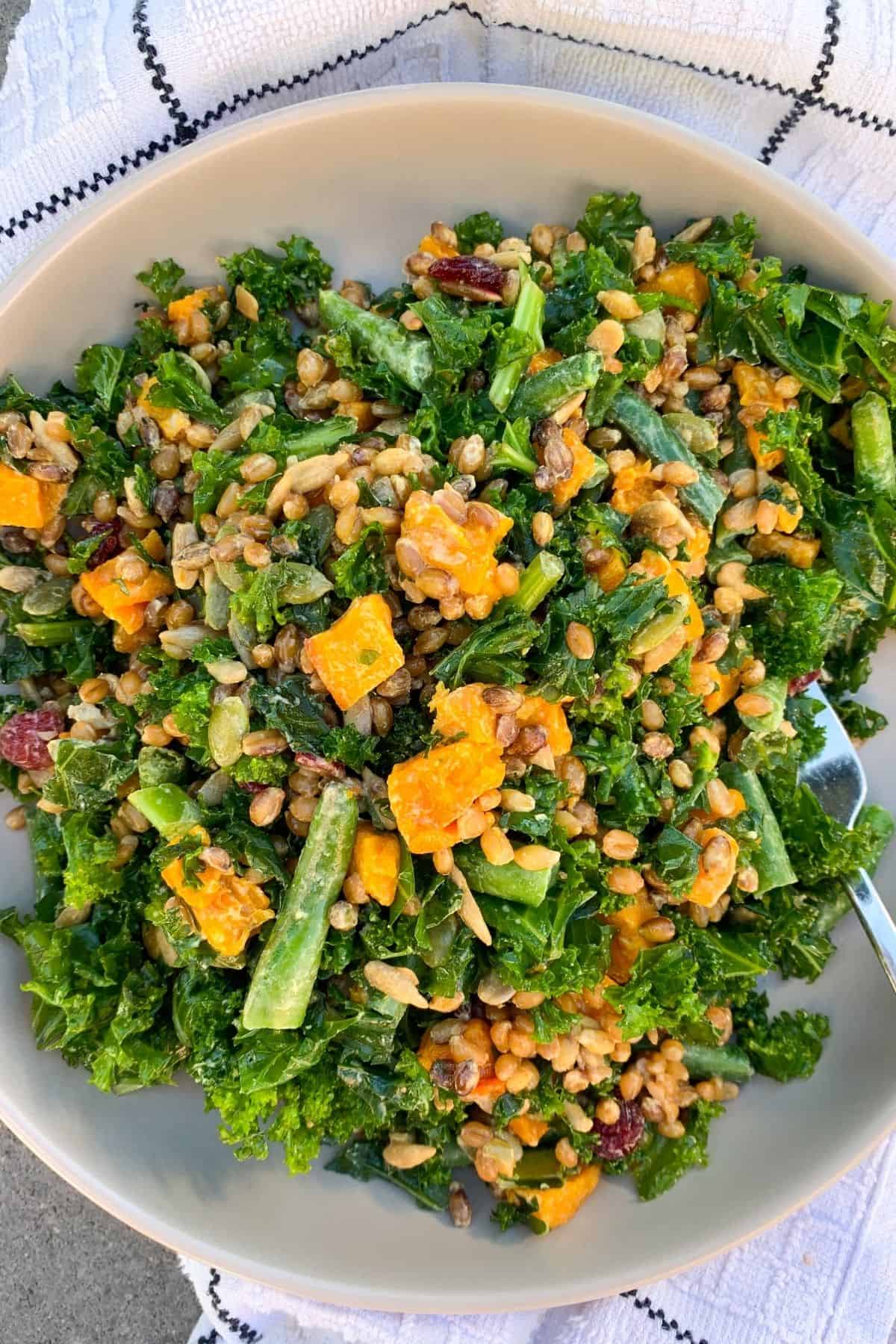 with this bowl being filled with roasted butternut squash, seeds and organic ancient grains, it screams nutritious and health centric. however, it does not disappoint in flavor. this recipe is made to make two servings but with the amazing flavors, it will be a crowd pleaser. with that in mind, the recipe can be adjusted if you have a bigger family or want to bring the recipe to a family gathering.
when hosting or attending a gathering, you want to make something that everyone will love. with all the different diet preferences these days, that is not an easy task! this recipe features both barley and wheat berries, adding not only a delicious flavor but plant-based protein as well to keep this recipe vegan-friendly.by satisfying a variety of diet preferences, this ancient grain bowl will keep the crowd happy and effort to a minimum!
related recipes
ingredients
kale
raw green beans
butternut squash
olive oil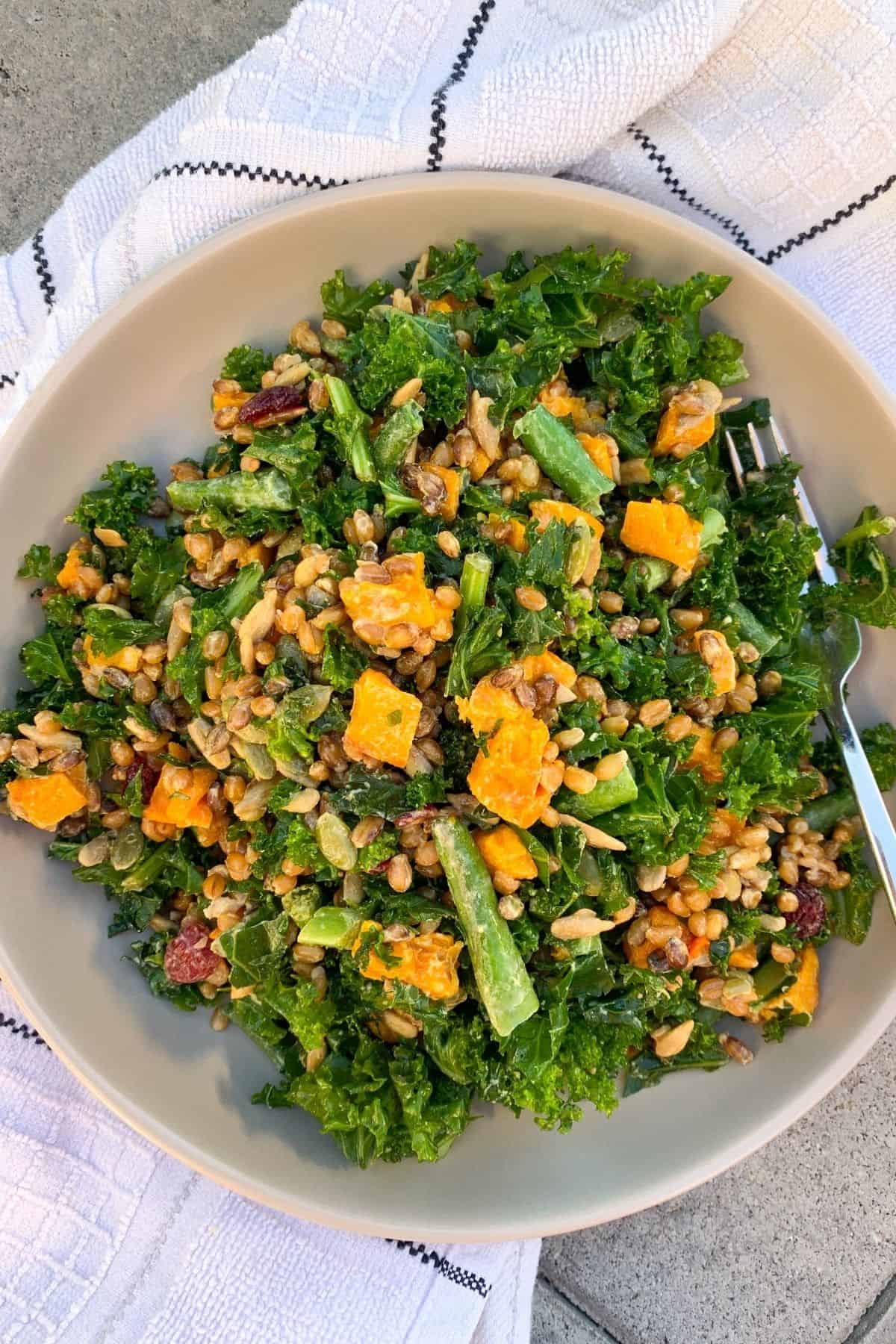 substitutions
instead of seeds, add nuts to still have a great crunch factor
the dried cranberries can be swapped for any dried fruit (i recommend apricots, cherries or chopped dates)
sweet potato would be a great alternative to the butternut squash (or any root vegetable!)
the kale can be swapped for your favorite greens such as spinach or swiss chard. a stronger green is best when combining with the other ingredients so that the greens don't get lost in the mix
don't like green beans? raw asparagus would be a great swap to keep it light, refreshing and have a crunch
frequently asked questions
how long does it take to make an ancient grain bowl?
the most time consuming part of this recipe is waiting for the two ancient grains and butternut squash to cook. besides those ingredients, this recipe is quick and when you have the grains already prepared this is very minimal waiting time until you can eat this delicious, fall harvest bowl.
how many calories are in a harvest bowl?
this bowl is filled with tons of delicious ingredients that are also nutritious. the two ancient grains are higher in calorie but also add great nutritional value to your diet. if you use a low-calorie dressing like the one i linked above, it will keep the calories lower in the bowl. (this bowl has ~500 calories)
are ancient grain bowls healthy?
like everything else you eat...healthy in moderation! by portioning out the grains, veggies and dressing this will be a healthy and nutritious meal.
is a harvest bowl good left over?
yes! this recipe is perfect to meal prep and have throughout the week. just make sure to not mix in the dressing until you plan to eat the bowl, everything else can be put together ahead of time.
how should i store my ingredients?
all of the ingredients can be prepared ahead of time and stored in a single airtight container. add the dressing at the time you plan to eat the bowl so avoid soggy ingredients.
if you try this recipe, please leave a rating and comment below!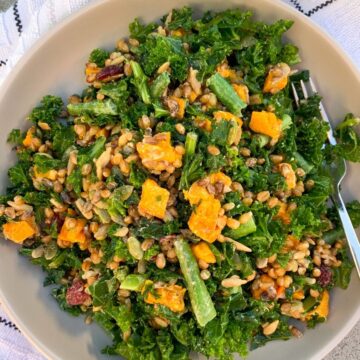 healthy fall ancient grain bowl
this ancient grain bowl is the perfect lunch bowl or side dish during the holiday season. easy to make and filled with nutritious ingredients!
Ingredients
6

cups

shredded kale

1

tbsp

olive oil

1

butternut squash

peeled and cubed

¼

cup

wheat berries

¼

cup

barley

1

cup

raw green beans

chopped

¼

cup

sunflower seeds

¼

cup

pumpkin seeds

¼

cup

dried cranberries

4

tbsp

honey dijon dressing
Instructions
preheat the oven to 425 degrees F

cook the barley and wheat berries according to the instructions. i cook both of the ancient grains in the same pot

peel and cube the butternut squash

line a baking tray with aluminum foil and drizzle with olive oil

toss the butternut squash until all of the pieces are covered in olive oil

bake in the oven for ~40 minutes, tossing halfway through

roast in the oven until slightly crisp and golden on both sides

while the squash is cooking, cut the fresh green beans

in a large bowl add your kale and olive oil. massage the kale until it's fully covered in olive oil and has softened slightly in texture

remove the butternut squash from the oven and let cool

by now the ancient grains should be fully cooked

combine the massaged kale with the grains and remaining ingredients in one bowl. toss until fully combined

store to eat the bowl later or serve yourself a plate now and drizzle with the honey dijon dressing
i can't wait to see your remakes of the recipe, don't forget to tag me on instagram