social media can be a lot to handle sometimes but there are also so many good things that come from it. like recipes! by now we have all seen that pasta trend on tik tok, right? where feta cheese and tomatoes are mixed with pasta? well, i have taken that trend and added a little twist to it.
we will be making FETA TOMATO STUFFED PASTA SHELLS! and i think it's good enough to become the new tik tok pasta trend. yup, you heard it hear first. this recipe combines a modern food trend with an italian classic.
as a kid, i was NEVER disappointed if stuffed pasta shells were on the table for dinner. naturally, i was nervous that the feta and tomato stuffing would disappoint compared to the traditional stuffed pasta shells. and of course, the last thing i would want is for this dish to become a remake that ruins the original! HOWEVER, i am happy to report that after having it a couple times now, it will not disappoint.
this modern twist on stuffed pasta shells will be perfect for your next family gathering. a surprise that no one will be able to forget. however, i have made a whole tray just for myself! and guess what, these hold up great as leftovers too. no matter where you bring this dish or if it doesn't even leave your kitchen, it will be a meal that everyone will enjoy.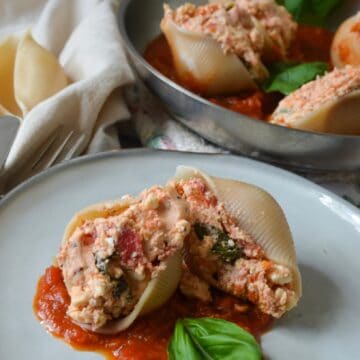 feta tomato stuffed pasta shells
this is the stuffed pasta shells recipe that you didn't know you needed in your life. BUT HERE IT IS! and you won't know how you've gone your whole life without it. the extremely popular, feta and tomato pasta tik tok trend inspired me to make this recipe and it is better than i could have ever imagined. the baked feta and tomato mixture makes the perfect filling for these pasta shells. all your pasta dreams will come true and your life is sure to be FETA with this dish in it!
Ingredients
1

package

jumbo pasta shells

i use tinkyada to make it gf

1

block

feta cheese

1

container

grape tomatoes

2

tbsp

olive oil

1

tbsp

dried oregano

1

tbsp

dried basil

½

cup

basil (fresh)

for cooking in the oven and topping

1

jar

pasta sauce

i use tomato basil to tie in the basil flavor
Instructions
pasta shell filling
preheat the oven to 425 degrees F

drizzle half of the olive oil in a baking tray. i used a 13x8 sized baking dish

place the block of feta in the middle and drizzle the rest of the olive oil on top. spread the tomatoes in an even layer around the cheese

top the cheese with the dried oregano and basil

add about half of the fresh basil onto the tomatoes

put the baking dish into the oven and bake for 35 minutes

once cooked and the feta + tomatoes have a light char on top. mix the feta and tomatoes until fully combined. you can expect the tomatoes to burst and the sauce to become a light orange color.

let this mixture cool for 15 minutes, at this time your pasta shells should be about done
pasta shells
after you get your cheese stuffing in the oven, start your pasta water and bring it to a boil

when the pasta water reaches a boil, add in your pasta shells

cook the pasta according to the package

drain the pasta water and rinse under cool water once the pasta is cooked (i prefer al dente)
bring it all together
turn your oven up to a broil

add your pasta sauce into an oven-safe skillet

once the pasta shells are slightly cooled and the mixture has sat for at least ten minutes. it is time to assemble!

take each pasta shell and fill each one (mine took about 2 TBSP of the feta cheese filling)

you can put all the shells straight into the skillet on top of the pasta sauce

bake in the oven on broil for about 5-10 minutes until the shells are heated throughout and you can see those crispy cheese bubbles start to form

let it cool slightly as it's going to be extremely hot coming out of the oven

top with fresh basil for serving and enjoy!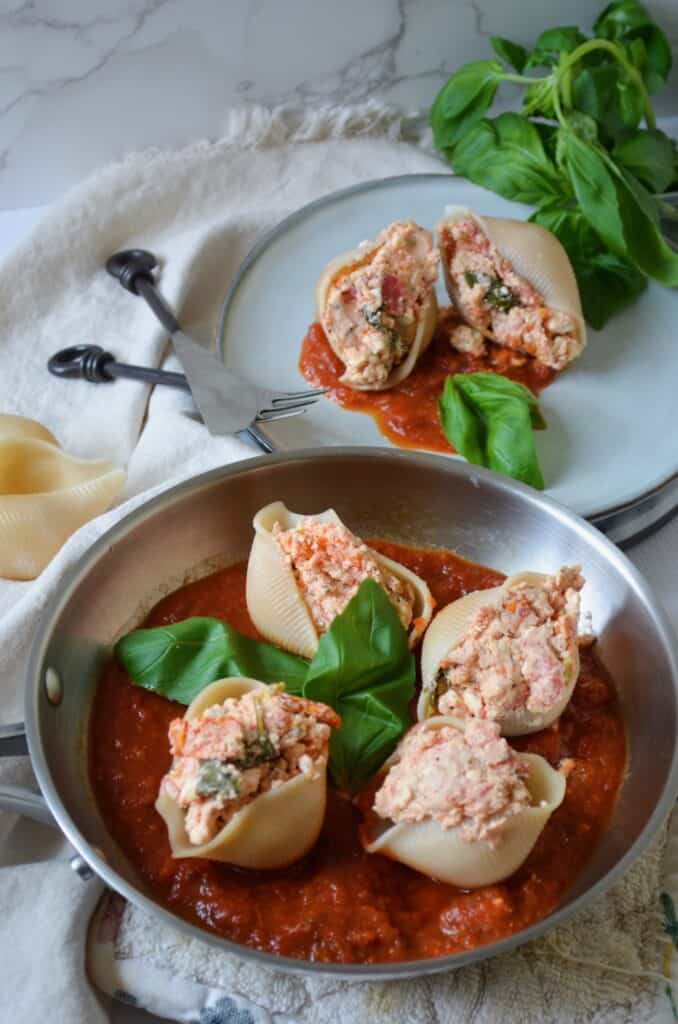 notes + tips
you can use any pasta shell you would like for this recipe. (my favorite is tinkyada because it's made with brown rice making it naturally gluten-free)
don't leave the fresh basil out! it adds an amazing freshness and flavor to the dish
any pasta sauce will work for this recipe! however, i like to use a tomato basil pasta sauce since it ties together with the fresh basil
if you liked this recipe, you will also like my lentil bolognese and watermelon feta pasta salad recipes. (the watermelon and feta pasta salad is perfect for a picnic of potluck during the summer!)