this vegan pesto recipe is the perfect addition to a pasta dish or avocado toast! at the end of this recipe, i'll walk you through how to use this spinach pesto sauce in both of those dishes. side note : did you see the pesto egg trend on tik tok? if you did, you can use this recipe to participate in the trend!
now back to the recipe! one of the best parts about pesto is that it's SO EASY to make! all you have to do is gather all of your ingredients then leave the rest to your food processor or blender. i personally prefer to use a food processor for this recipe but if you only have a blender on hand, that will work as well.
so who's ready to make this beauty of a sauce?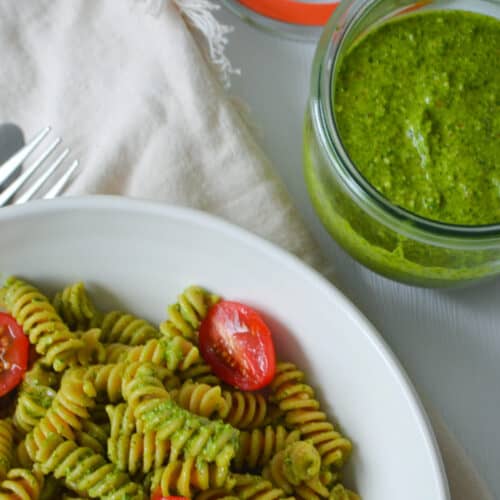 spinach pesto sauce
the perfect complement to your favorite pasta shape or to top your avocado toast. this spinach pesto sauce is not only delicious but so easy to make in the food processor.
Ingredients
3

cups

baby spinach

1

cup

fresh basil

1/4

cup

almonds

raw, whole

2

tbsp

pecorino cheese

1/2

cup

olive oil

1

whole

lemon

juice only

pepper

to taste

salt

to taste
Instructions
add your spinach, basil, almonds, olive oil, cheese and lemon juice into the food processor

pulse consistently until fully combined

taste and add salt and pepper to your taste. i found the recipe didn't need too much due to the cheese adding a salty aspect.

pulse again until fully combined

add to your favorite pasta or as a spread on a sandwich/avocado toast.

pour into a mason jar or sealed container for storage.
spinach pesto pasta
the perfect way to freshen up your pasta night! whether it's pasta from a box or freshly made, this sauce will go perfectly. the best part? this recipe couldn't be more low maintenance while still being absolutely delicious. my favorite kind of pasta to use is a chickpea flour or red lentil pasta so that it adds some extra protein to the dish.
it couldn't get much easier when making this recipe, simply toss your pasta in the spinach pesto sauce and enjoy! some additional toppings could be sliced cherry tomatoes, more fresh basil or more of your favorite cheese.
spinach pesto avocado toast
the perfect complement to the avocado on your toast. my favorite kind of toast to use with this recipe is sourdough. whether it's a whole wheat or regular sourdough, it's robust enough to hold all of these delicious toppings and has a delicious flavor.
all that you need to do for this recipe is to toast your toast to your liking. i know some people like their toast practically burnt but i'm not that kinda gal. spread your spinach pesto sauce on top of your slice of bread, add mashed or sliced avocado then top with a dash of salt and pepper to taste. and there you have it, a chef's masterpiece. you could sell this at a restaurant for $15…i know because i order it when i go out to brunch!
some additional toppings can be slices of tomato, eggs or additional greens/sprouts if you're feeling extra healthy.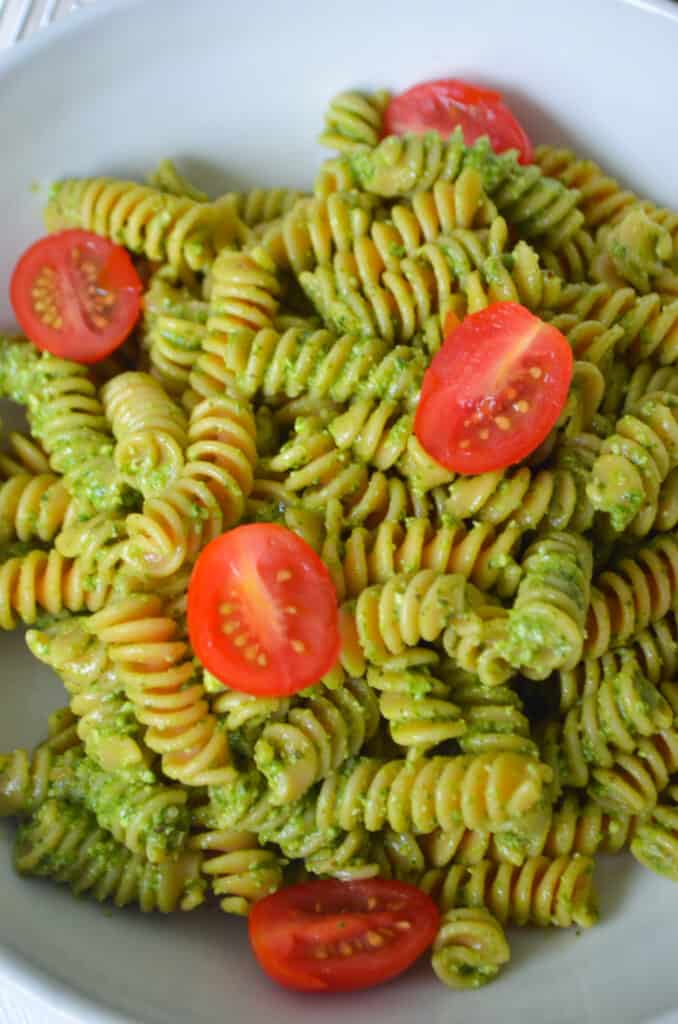 tips and tricks
this recipe can be made vegan/dairy-free by substituting the pecorino cheese for a vegan parmesan/similar cheese
my favorite way to enjoy this recipe is tossed on my favorite pasta, like in the photos above!
if you liked this vegan pesto recipe, you will also like my kale quinoa bowl and warm feta dip