i am here to DISH out the BEST brunch spots in tampa, florida... are you ready for this?! we'll be talking about unique egg benedicts, pancakes, and even a hangover burger...YUM! if you're not drooling yet, i promise you will be as you keep on scrolling! if you can't tell by now...brunch is by far my favorite meal to eat. with that said, i put a lot of time and effort into researching the best brunch spots. not just for me but for you all as well!
i've gone to some of the best brunch spots of my life here in tampa and i am so excited to share them with you all so that you can experience them too. don't worry, whether you prefer sweet or savory options, i have got you covered in this post! this article covers brunch spots for those with a sweet tooth and those looking to start their day off with something a bit more savory. enough teasing for now, let's get into our first spot!
oxford exchange
this place is a MUST-try when you're in tampa! i promise that you will not be disappointed. oxford exchange is so good that it's even packed on a monday... while in tampa, i went here TWICE because there were so many menu items that i wanted to try! to be honest, i still want to go back for more. let's chat about what i ate now, shall we?
cinnamon roll

during my first visit to oxford exchage, you have to start off with their cinnamon roll. it comes out all hot 'n' steamy and you won't want to miss out on trying this.

fall vegetable salad

the salad is filled with baby kale, shaved brussels, crispy sweet potato, pickled red onion, quinoa, tomato, and shredded manchego. the salad is also topped with a maple mustard vinaigrette.. YUM!

breakfast tacos

chorizo, 2 eggs, manchego, jalapeño pico de gallo, cumin aioli, micro greens, flour tortillas

seasonal chopped salad. i already know what you're thinking, a salad, really?

filled with romaine, spinach, arugula, grilled chicken, dates, goat cheese, avocado, fresh corn, pumpkin seeds, and topped with a citrus cilantro vinaigrette. they don't skimp on the mix-ins or the serving sizes of their dishes which is always a plus in my book!

poppy seed pancakes.

they were absolutely divine. perfection i might add? an all around YES from me.
MAJOR tip: don't be afraid to pour their lemon maple syrup alllllll over these beauties.
and yes you heard that right, lemon maple syrup… but seriously, be generous with it. you deserve it!
THE STAR OF THE SHOW FOR ME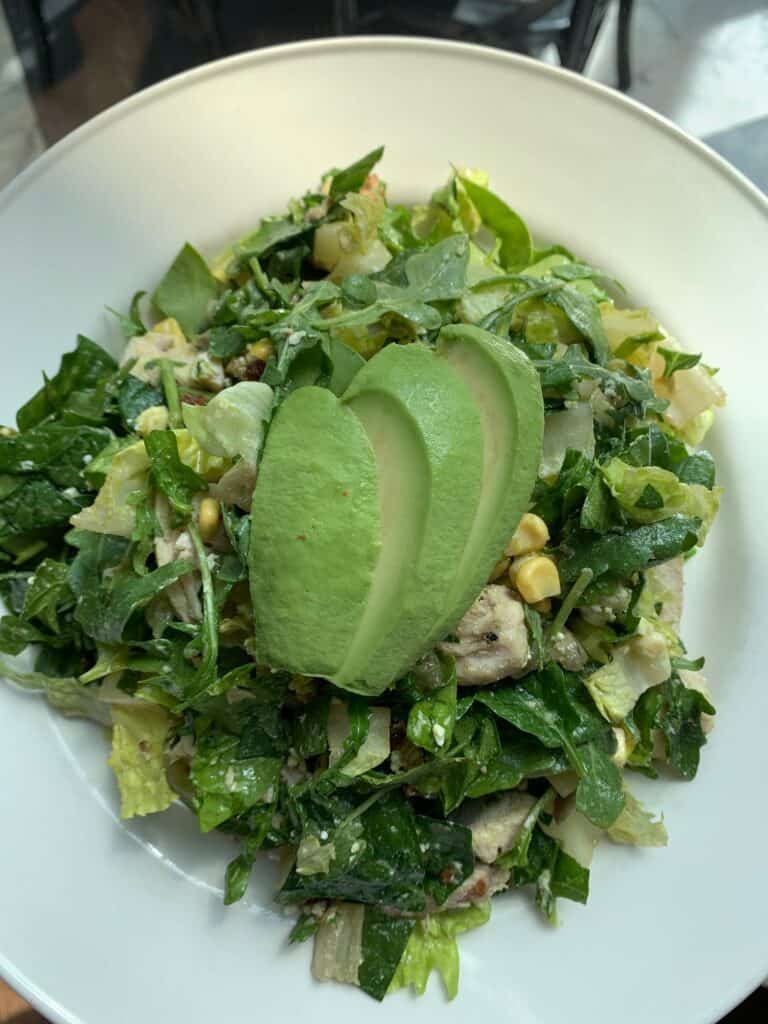 my review : probably my favorite of all of these best brunch spots in tampa... now that is saying something! i love the vibe, the service is fantastic and the food is exceptional. if you don't go here when you're in tampa, then you are really missing out on some amazing food!
noble crust
does this spot sound familiar? it should! noble crust was featured on my blog post for must-try dinner spots in tampa as well. you can check that out here! now back to brunch...
noble crust brunch is an experience all on it's own. i wish i got to go back here a second time to try more of their menu items! what did i get?
farro bowl

poached eggs, brussels, butternut squash, honey glazed carrots, lime yogurt, avocado + farro risotto

short rib benny

poached eggs, caramelized onions, bearnaise, crispy shallots, buttermilk biscuit

crispy fingerlings

what more do you need to know? crispy, salty, perfection! i always need breakfast potatoes on my brunch table
my review : noble crust is a MUST try when in tampa and is no doubt one of the best brunch spots i have ever been to. i was pleasantly surprised that the farro risotto bowl did not make me feel heavy at all! it had a great flavor with a variety of textures to keep me going back for more. the short rib benny not only looked perfect but tasted as good as you could image it to, if not better. the yolk was cooked to perfection and the biscuit brought it all together.
steelbach
buttermilk biscuits

served warm with smoked honey butter, +apple butter

hangover burger

grass-fed burger, fried egg, american cheese, shredded hash browns, candied bacon, bloody mary ketchup

avocado toast

crushed avocado, preserved lemon, zaatar spice, shaved fennel, feta, pickled mint
my review : i LOVE this brunch spot in tampa. it is one of the best brunch spots we went to and not just because we started off with some warm biscuits. but that can never do you wrong, am i right? the apple butter was scrumptious and paired perfectly with the buttermilk biscuits. the avocado toast was delicious and unique, however it was slightly on the small end in terms of portion size. the hangover burger will cure any hangover you may have, a truly delicious way to start your day.
craft kafe
avocado toast
chocolate chip banana bread
breakfast sandwich
my review : such a great spot to have a low key breakfast or lunch in tampa. we decided to come here for brunch during the week and the avocado toast was so good that i also bought a whole loaf of their bread... and guess what? i used that bread all week and enjoyed every bit of it! the chocolate chip banana bread was delicious but i do wish it was more moist on the inside.
boca kitchen
avocado toast

avocado spread, beet pickled eggs, citrus sorrel

boca corned beef hash

two eggs, smoked corned beef, roasted onions, red peppers, potato hash, hollandaise

breakfast potatoes. because it's not brunch without extra carbs!!!
my review : great spot (with bottomless mimosas as well!!) and the food was delicious! i would definitely go back again to try some more dishes or just to get more of that avocado toast...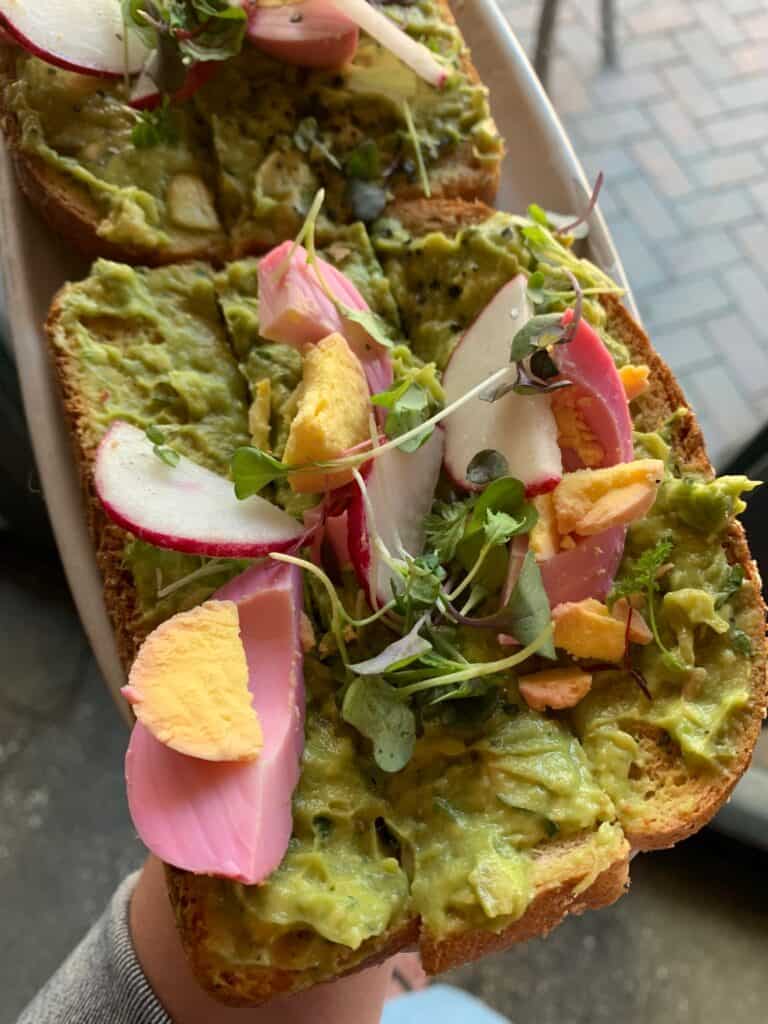 notes