who doesn't love to start their day with a little bit of chocolate? this almond joy overnight oats recipe is a healthy way for you to have chocolate for breakfast. i was initially inspired to create this recipe after having a bowl from soho juice co in tampa, florida! however, i soon realized that i wouldn't be able to have this overnight oats bowl on the daily after i left florida…so i decided to create my own version and here we are!
i have to be honest, i have never made overnight oats before creating this recipe. i have always been a skeptic when it came to overnight oats. would the texture be good and the most important question, would i even like it?! but oh boy…this baby came out SO GOOD! this recipe tastes exactly like eating an almond joy but, the only difference? it's good for you! isn't that something?! i just love the combination of the coconut and chocolate to create the perfect flavor combination within the overnight oats. then you add almonds to top it off and you get that perfect crunch factor too. now i think that's what they call a triple threat!
so grab your oats and let's get rollin' with it…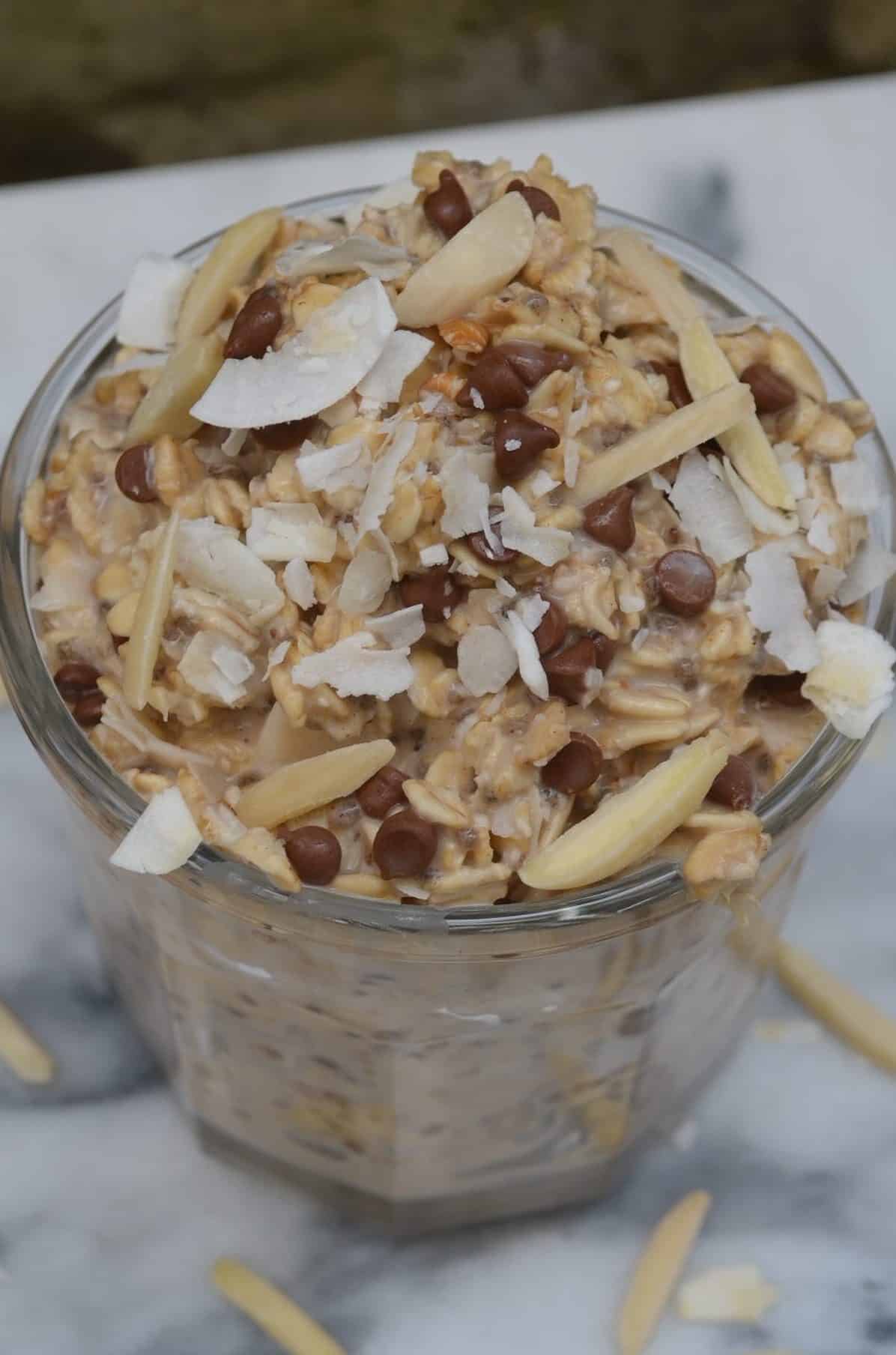 almond joy overnight oats
almond joys may have been a less popular candy option as a kid but this recipe gives it a MAJOR upgrade. now that we're older and a little wiser, maybe? we can truly appreciate the mature flavors and textures of an almond joy. this overnight oats recipe highlights the best that almond joys have to offer and the best part? you can have it for breakfast!
Ingredients
1.5

cups

rolled oats

1

tbsp

chia seeds

1

tsp

cinnamon

3

tbsp

dark chocolate morsels

enjoy life is my favorite brand

2

cups

almond milk

unsweetened

2

tsp

vanilla extract

2

tbsp

maple syrup

3

tbsp

almond slices / slivers

for mason jar mixture

1

tbsp

almond slices / slivers

for topping (use this amount per bowl made)

1

tbsp

coconut flakes

for topping (use this amount per bowl made)
Instructions
get a large mason jar out, this is where you will put and mix all of your ingredients

add the oats, coconut flakes, mini chocolate chips, chia seeds, almonds and cinnamon into the mason jar

add in the almond milk, vanilla extract and maple syrup on top

mix it all together with a spoon

put the mason jar top on and give it a little shake to finish combining all the ingredients

once all the ingredients are fully combined, put the mason jar in the fridge overnight (8 hours)

when it's ready, give it a mix then serve yourself a big bowl of these almond joy overnight oats!

don't forget to top with extra almonds + coconut flakes to enhance the almond joy flavor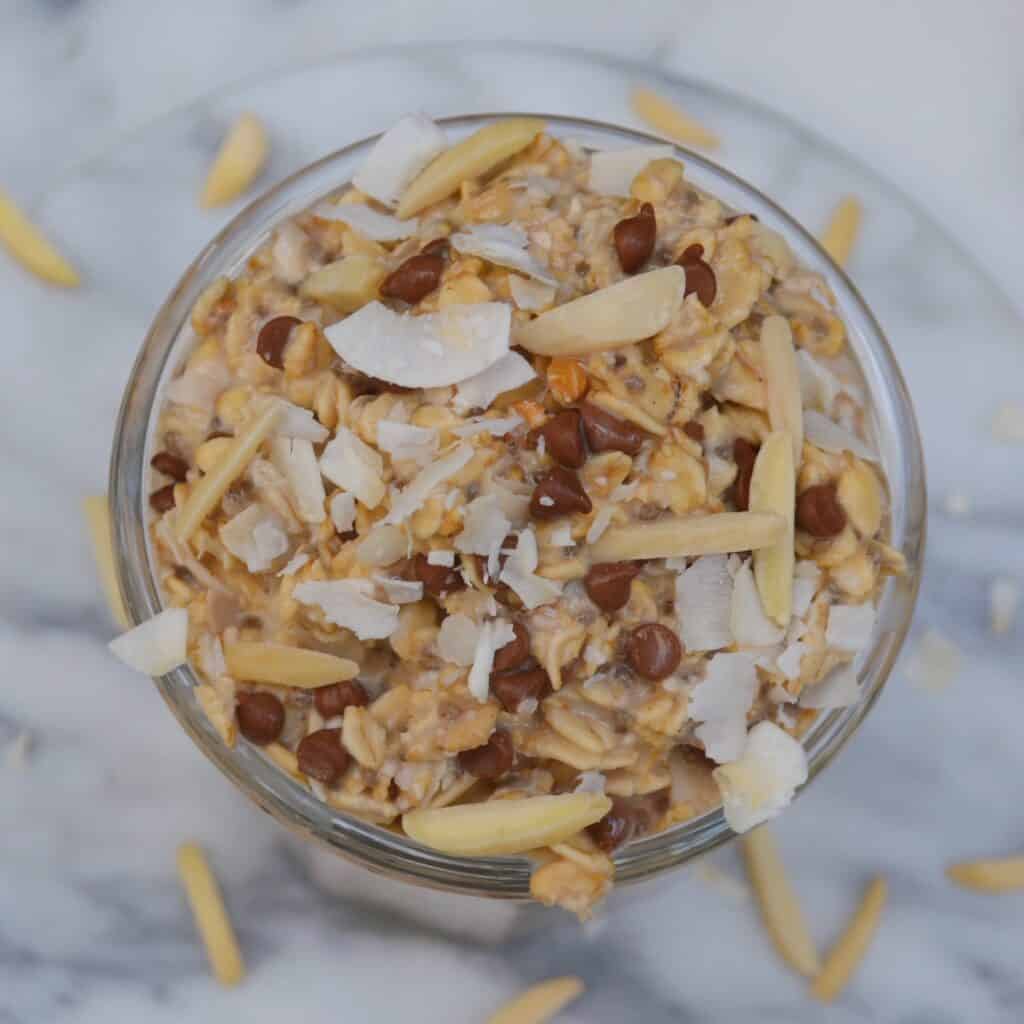 notes
recommendation : use mini chips so that the chocolate flavor isn't overwhelming and you get the perfect amount in every bite
recommendation : i like to top my bowl with extra coconut + almond slivers to enhance the flavors already in the overnight oats. i also like to add banana slices for an extra layer of flavor – it fits right in!
this almond joy overnight oats recipe is great to meal prep on the weekend and have on hand throughout the week! it is quickly becoming my go-to recipe when i know that i'm going to be busy
if you liked this almond joy overnight oats recipe, you will also like my nut + seed bar recipe and chocolate cauli oats recipes for delicious, easy and healthy breakfast options