65 calories and 4 grams of protein in each banana muffin!
low calorie and high protein banana muffins to start your day off right! perfect if you're on the go or want a tasty breakfast at home.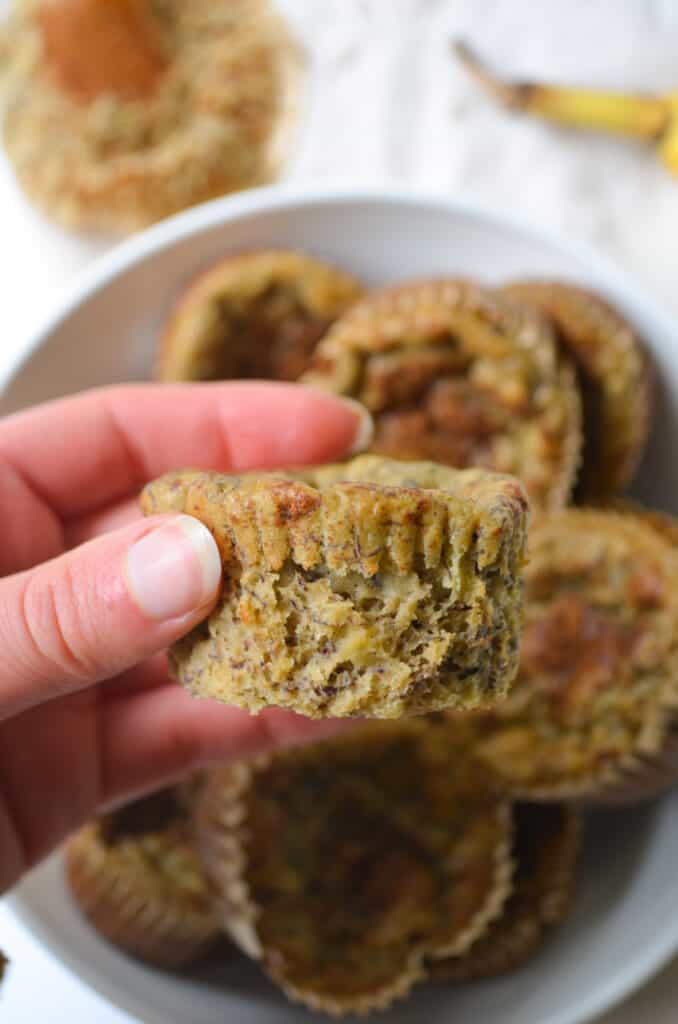 these banana protein muffins are not only delicious but an easy way to sneak some extra protein into your breakfast.
my favorite way to start my day is to eat one cold while i warm the other banana muffin up for 15 seconds in the microwave! i have notoriously done this ever since i was a kid and this clearly still hasn't changed!
the only difference is that i used to do this with waffles...but these muffins are way better for me. BONUS! there is no added sugar to this recipe, simply the bananas for sweetness.
are you someone that is always on the move and the days seems to get more hectic as the week goes on? these are PERFECT for you!
they are easy to meal prep on a sunday to throughout the week. with this in mind, i enjoy them just as much straight from the fridge as i do when i take them out of the oven or microwave.
frequently asked questions
are banana muffins bad for you?
well that depends on the ingredients used to make the banana muffins! these banana protein muffins are made with the highest of quality and cleanest ingredients.
what makes a muffin light and fluffy?
the baking soda and baking powder keep these muffins fluffy and rise like your typical muffin. the eggs give the muffins a nice lightness so that you don't feel a heavy weight in your stomach after eating them!
can i eat a muffin every day?
yes, yes you can! in fact, i usually have two of these for breakfast because i can't get enough of them.
IMPORTANT NOTE! this recipe uses nuzest protein powder, which is my go-to for baking! it doesn't have a grainy texture or processed flavor like some do. flavor and texture is is super important for baking, making this a key component when incorporating protein powder into a recipe.
do you need protein powder or running low? you can use the link here to purchase the same kind that i use. (don't forget to use my code FEASTYTRAVELS at checkout to save a little money on your order!)
related recipes
if you try this recipe, please consider leaving a rating + comment at the end of this blog post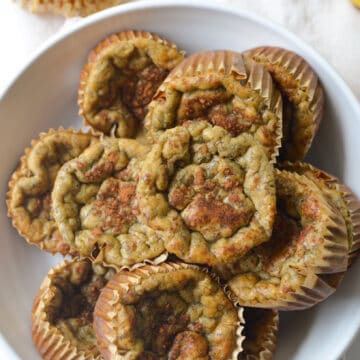 banana protein muffins
these banana protein muffins are gluten-free and paleo friendly without sacrificing any delicious flavor! these muffins are perfect for your sunday baking at home and then to have throughout the rest of the week when you are on-the-go! easy, delicious and nutricious. BONUS! there is no added sugar to this recipe, simply the bananas for sweetness.
Ingredients
3

bananas

mashed

3

eggs

¼

cup

almond milk

unsweetened

2

tbsp

gluten-free flour

1

serving

vanilla protein powder

1

tsp

baking soda

1

tsp

baking powder

1

tbsp

cinnamon

1

tsp

nutmeg
Instructions
preheat the oven to 350 degrees F

in a large mixing bowl, add your bananas and mash until the bananas are smooth texture with no huge chunks

add in the eggs and almond milk, whisk until fully combined

mix until fully combined then add in the gluten-free flour, baking soda, baking powder, cinnamon and nutmeg.

spray each wrapper with a non-stick spray or your preferred non-stick method

use a ⅓ cup to scoop the batter into each muffin wrapper

add a dash of cinnamon on top of each muffin

bake for 10 minutes, turn 180 degrees and put back into the oven

cook for an additional 5 minutes and remove from oven when fully cooked through. i like to use a toothpick to check and make sure it comes out clean!

let cool slightly and enjoy 🙂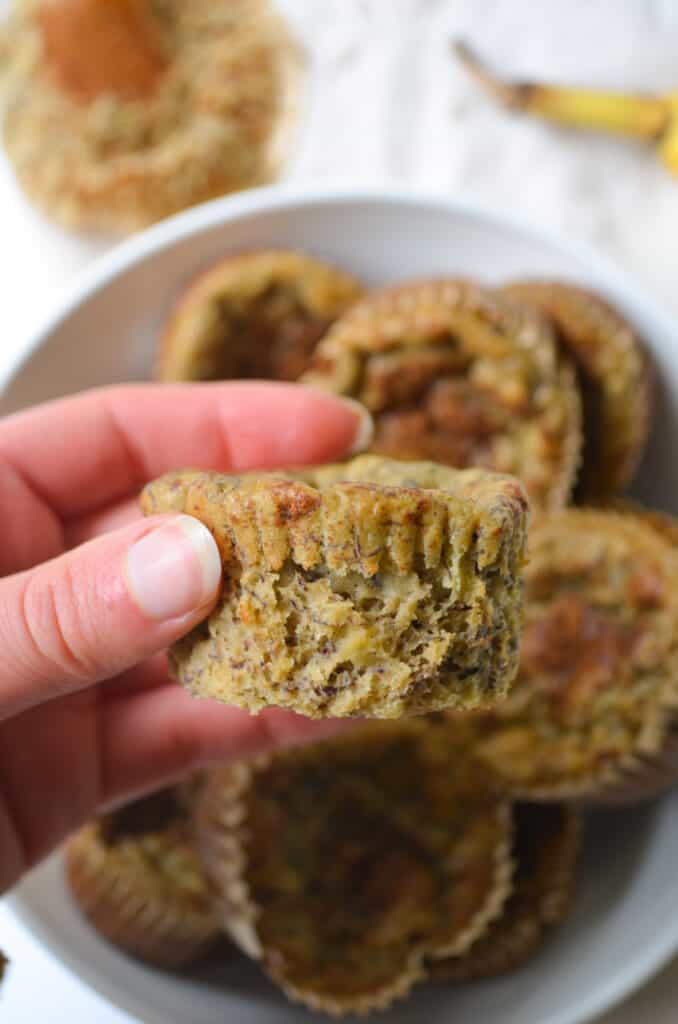 tips and tricks
protein powder suggestion : nuzest vanilla protein, you can use the link here or use my code FEASTYTRAVELS at checkout to save a little money on your order!
protein powder substitute : you can substitute the protein i use for any other protein in an equal amount. i also like to use a cinnamon chai protein powder that i have as well!
storage suggestion : store in an airtight container in the fridge for up to 5-7 days (perfect to make on sunday for the week ahead!). you can also keep in the freezer for 2-3 weeks.
tip : while you're heating one up in the microwave, eat one cold! that's what i do when i need something quick during the week and pretty hungry 🙂
if you liked this banana muffin recipe, you will also like my healthy cornbread muffins and baked apple donuts, both perfect for fall!