these healthy, bakery style pumpkin muffins are perfect to have on your table thanksgiving morning or really any morning now that i think about it. not only are they DELICIOUS but good for you too.
why make these pumpkin muffins?
who doesn't love a little extra pumpkin in their life? especially to start their day with some pumpkin muffins. what better day to enjoy these delicious goodies than thanksgiving? thanksgiving can be filled with so many heavy (but delicious dishes!) best to start the day off with these muffins...no guilt, just a delicious morning treat! these muffins don't have any processed sugar and are gluten-free friendly.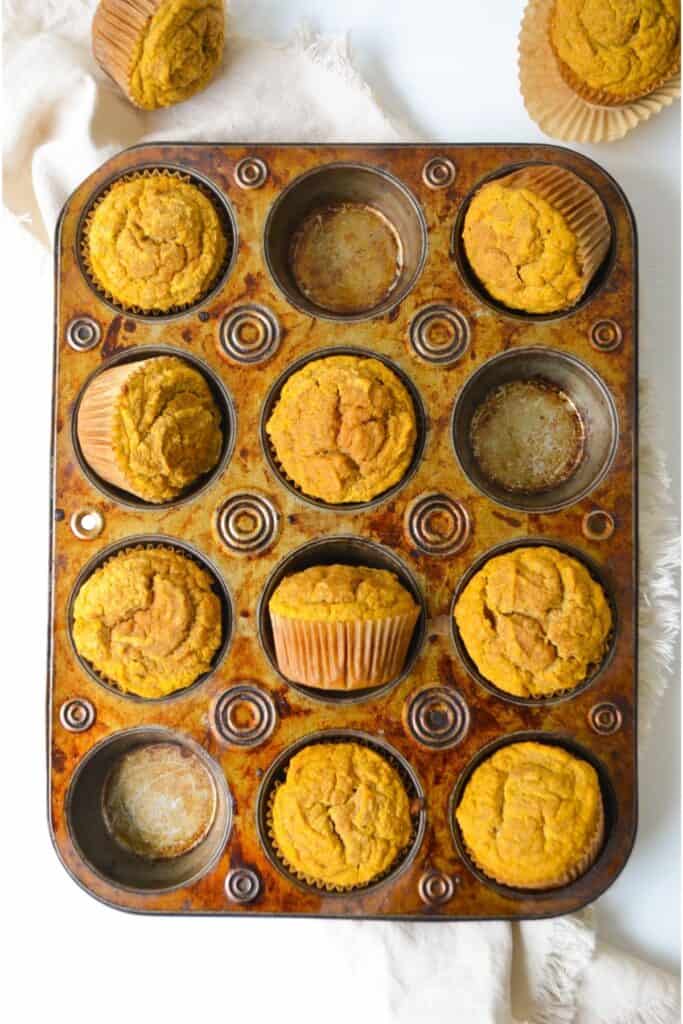 however, you don't have to restrict the enjoyment of these muffins to thanksgiving. these muffins are the best way to start your day this fall and winter. whether you prefer a healthier treat or something more indulgent, this satisfies both cravings. using healthier ingredients, this pumpkin muffin recipe is as delicious as bakery style pumpkin muffins.
main ingredients used in this recipe
frequently asked questions
how many calories are in a pumpkin muffin?
these muffins have 130 calories in each
do pumpkin muffins freeze well?
yes! you can freeze these muffins up to a month as well as for up to 7 days in a container in the refrigerator
is pumpkin puree the same as canned pumpkin?
yes, just make sure to not purchase pumpkin pie filling as that has additional ingredients
what makes a pumpkin muffin light and fluffy?
the baking powder as well as the eggs will make these have the ultimate fluff-factor
can you use oil instead of butter in muffins?
you could but i wouldn't suggest it if you want your muffins to remain fluffy. oil may produce a more dense muffin
substitutions (optional)
brummel & brown yogurt spread (butter) - you can use regular butter or vegan butter as a substitute
egg - can be made vegan using a flax egg (1 tbsp ground flax seed mixed with 2 tbsp water)
flour - the gluten free flour can be substituted for regular flour. this recipe has not been tested with almond flour, coconut flour or oat flour and will most likely result in a different consistency.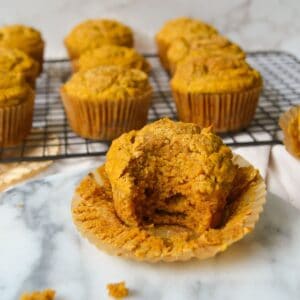 bakery style pumpkin muffins (gluten-free)
these healthy bakery style pumpkin muffins are perfect to start your day. not only are they DELICIOUS but good for you too!
Ingredients
1

cup

gluten-free flour

1

tsp

baking powder

2

tsp

pumpkin pie spice

1

tsp

cinnamon

1

tsp

nutmeg

1

can

organic canned pumpkin puree

2

eggs

½

cup

brummel & brown yogurt spread

softened

¼

cup

monk fruit sweetener
Instructions
mix all of your dry ingredients in a medium sized bowl

add in the wet ingredients one at a time, mixing until fully combined

chill the dough in the fridge for 30 min - 2 hours (the longer the better!)

mix the coating sugar and pumpkin pie spice in a small dish

remove the cookie dough from the fridge and scoop ~ 1 tbsp balls

roll the balls in the coating mixture and place about 2 inches apart on a baking tray lined with parchment paper

bake for 6-8 minutes depending on your oven (mine take closer to 8 min)

let cool slightly (or not!) before taking a bite and ENJOY!
did you try this recipe? let me know below in a comment + rating!