who's ready to get a boost of energy from these chocolate coconut date balls?! i've been having these EVERY. SINGLE. NIGHT. since i made them, i seriously can't stop! whenever i used to see energy ball recipes online, i used to just think "they have so many calories" and the BIG question "do they even give you energy?" and i can come to you today that yes, they do give you energy and they don't have to have 300+ calories! amazing right?
now, all you have to do is keep reading then make these babies!
this recipe only has THREE ingredients, each providing a unique layer of flavor! the dates are not only delicious but contain tons of nutritional benefits as well. two of the best aspects to dates are their anti-oxidant properties as well as improving brain functionality. who doesn't want that?
the nut + seed spread that i use is 100000% necessary to get the same flavor as the ones i made. i use nuttzo's chocolate power fuel s[read because it's naturally filled with tons of nuts + seeds that are not only good for me but delicious as well. not only is this spread amazing, i am OBSESSED with all of their other spreads. and guess what?! if you use the code FEASTY10 you will get 10% off your order!
the last ingredient, coconut, adds a delicious layer of flavor to the chocolate spread and dates. trust me, you don't want to skip out on adding it in! i like to also roll the date energy balls in the coconut flakes to ensure the coconut flavor doesn't get lost plus it adds a nice crunch! with that, you have the coconut in the mixture as well as on the outside. simply delicious!
enough teasing, let's get to the recipe!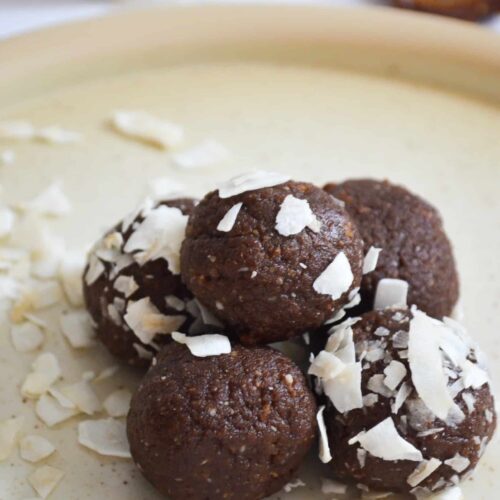 chocolate coconut date energy balls
these chocolate coconut date balls are a nutella lover's dream AND they are good for you too! using nuttzo's chocolate spread, which contains hazelnuts + other nuts and seeds, it gives it a natural, fudgy nutella flavor that anyone will love. great for a boost of energy in the morning or midday but my personal favorite is to enjoy them for a healthy dessert at night.
Equipment
food processer

baking tray
Ingredients
1

cup

dates

pitted

1

cup

nuttzo chocolate spread

1/2

cup

coconut

1/4

cup

coconut

save for rolling the date balls
Instructions
ensure that all of your dates are pitted and split them in half if they aren't already

put the dates and nuttzo chocolate power fuel spread in the food processor

pulse consistently until you get a smooth texture then add in the coconut flakes

pulse a few more times to give it a good mix without making the coconut completely disappear

grab a baking tray and line with parchment paper

start to roll the mixture into ball shapes

once finished, roll all or as many as you want in the remaining coconut flakes for a nice outside crunch!

let set in the fridge for about 30 minutes then enjoy!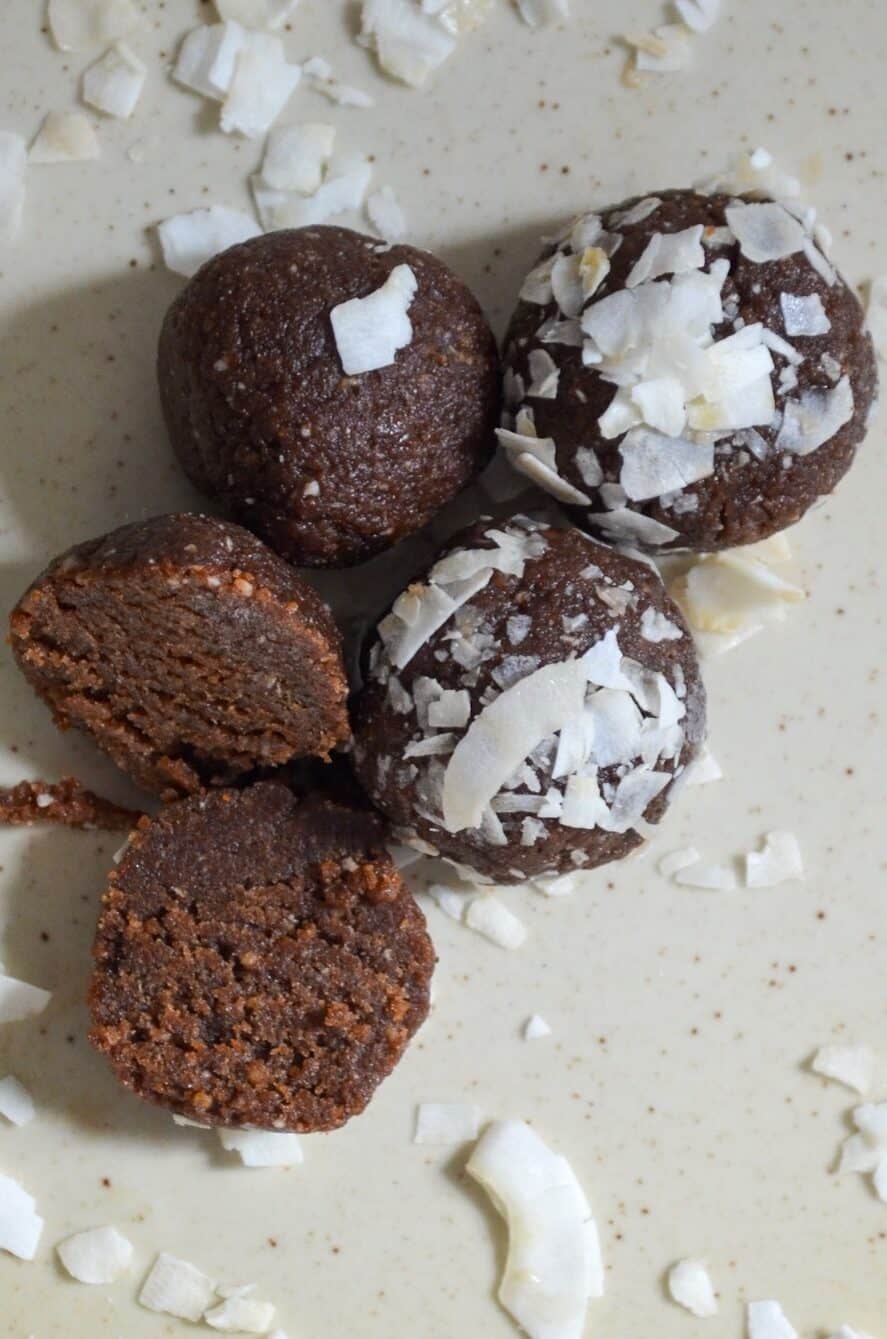 notes
texture : the date energy balls have a fudgy texture, perfect for a sweet snack, breakfast on-the-go or dessert
flavor : healthy nutella flavor encompasses these chocolate coconut date balls due to the chocolate power fuel spread and then enhanced with the coconut and date flavors mixed in
quick and easy to make without sacrificing flavor – for those on-the-go or relaxing at home
the nuttzo spread is necessary to achieve the best flavor and texture, however, any nut butter to fit your dietary + personal preference will work
store in a sealed container in the refrigerator to keep fresh!
if you liked this recipe, you will also like my almond joy overnight oats and my homemade nut + seed bars