this high protein smoothie bowl will keep you full and satisfied. using clean and healthy ingredients, this is a great meal to start the day with.
i used to avoid smoothie bowls for multiple reasons, in fact, i hadn't had them since high school! one of the biggest reasons i never had them was i didn't think they would keep me full. not only that, i thought they were one of those "fake healthy" meals that was actually not the best for you. both smoothies and smoothie bowls can have a bed rep for being high in carbs and having no protein. however, this doesn't have to be the case. it is all about the ingredients you use to not only have a delicious tasting smoothie, but one that is good for you as well! this high-protein smoothie bowl is going to completely change your mindset on smoothies and sure to become a favorite!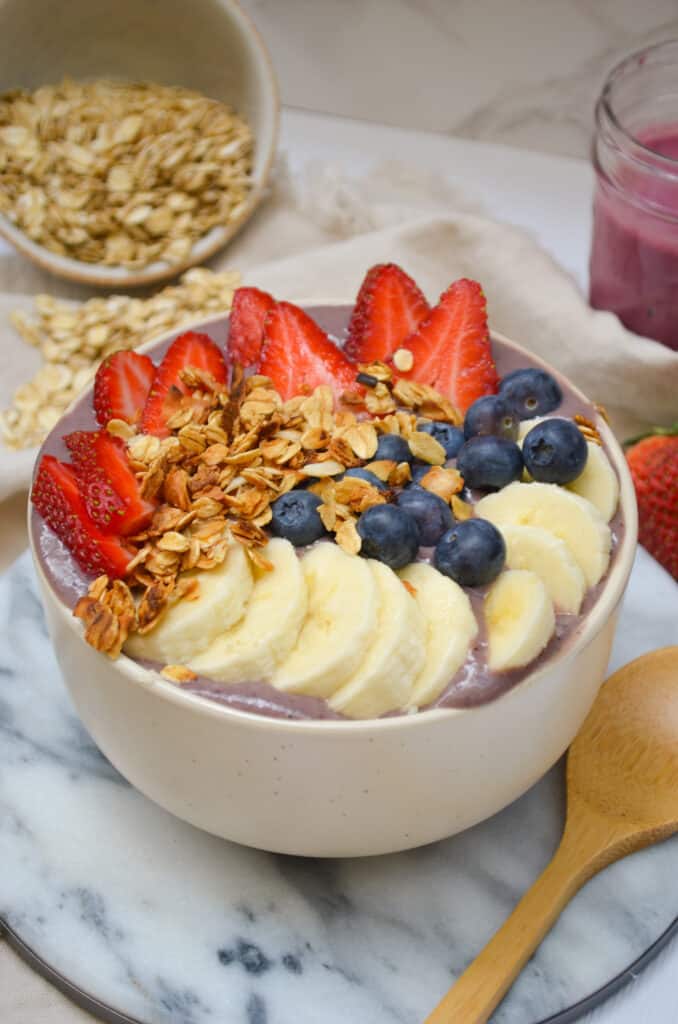 with the warmer weather, i have been on a smoothie bowl kick and thanks to evive, i can make them at home! you don't even need a blender to make their smoothies. and guess what! YOU can make tons at home too by using this link or my code FEASTYTRAVELS10 at checkout. you'll be saving money AND getting some delicious smoothie flavors to start your day off right.
this is my favorite healthy smoothie bowl recipe to make at home, and it wouldn't be possible without evive! the smoothie bowl recipe below will make it easy for you to have a smoothie whenever the craving hits! where to start? order your evive smoothies right now!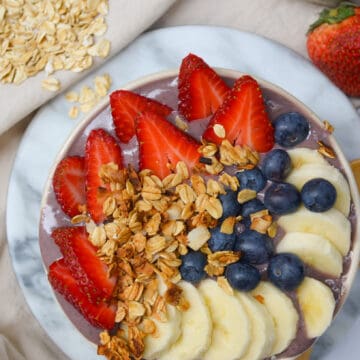 high-protein smoothie bowl
a high-protein smoothie bowl?! i didn't think they existed either until i found EVIVE! use the link above to order your own smoothie bowls to make at home too. you can use any of their smoothie bases for this recipe but my current favorite is their blueberry-haskpa filled with 18g of protein!
with the temperatures rising, smoothie bowls are always a good idea to have for breakfast, lunch, dinner, or dessert. the best part? they not only taste delicious but will keep you full and satisfied!
Ingredients
1

package

evive

½

banana

frozen

¼

cup

almond milk

or preferred milk

5

strawberries

fresh (topping)

¼

cup

blueberries

fresh (topping)

½

banana

sliced (topping)

½

cup

toasted coconut honey granola

recipe linked below!
Instructions
let the evive packet sit for 20 minutes

add the evive pack, almond milk and frozen banana to a blender / food processor

pulse until fully incorporated with a smooth texture

prep the toppings as needed, i usually have the granola made prior to this to have throughout the week

once combined, add into your bowl and top with all of your favorite toppings
Notes
you can swap the evive smoothie base with any other smoothie recipe - it is an extremely versatile recipe
other favorite toppings include : coconut chips, goji berries and nut butters
granola recipe is here!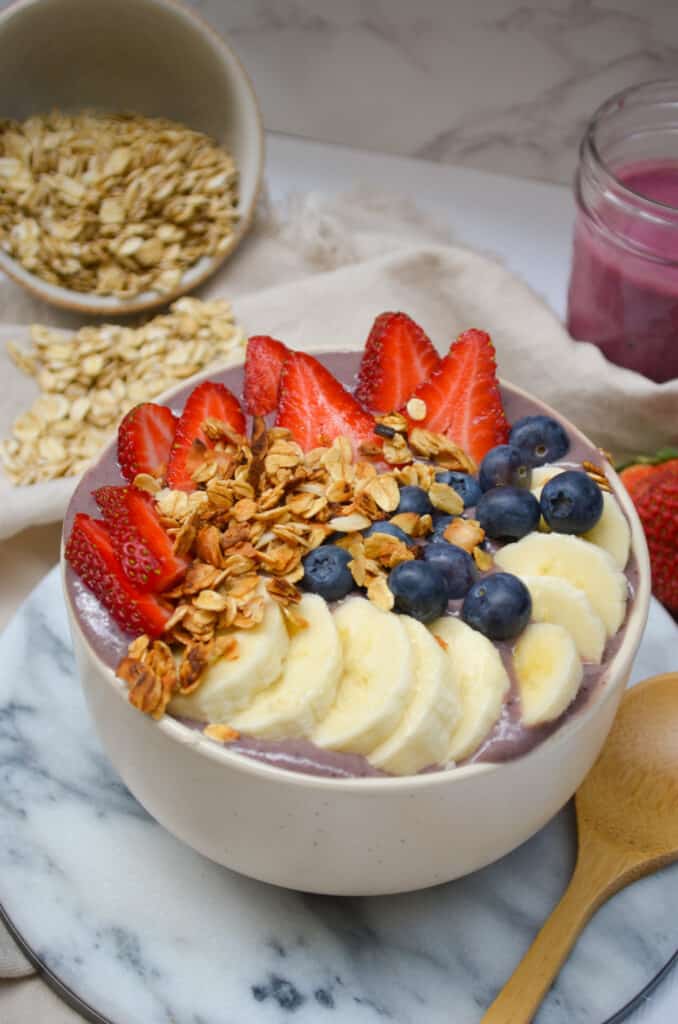 notes + tips
the granola recipe used on this smoothie bowl is linked, here!
make the granola ahead of time so that it's ready to go and cooled when topping the smoothie bowl
to purchase evive smoothie bases, use the link here or my code FEASTYTRAVELS10 at checkout!
if you liked this recipe you will also like my breakfast banana split and mango smoothie bowl recipes