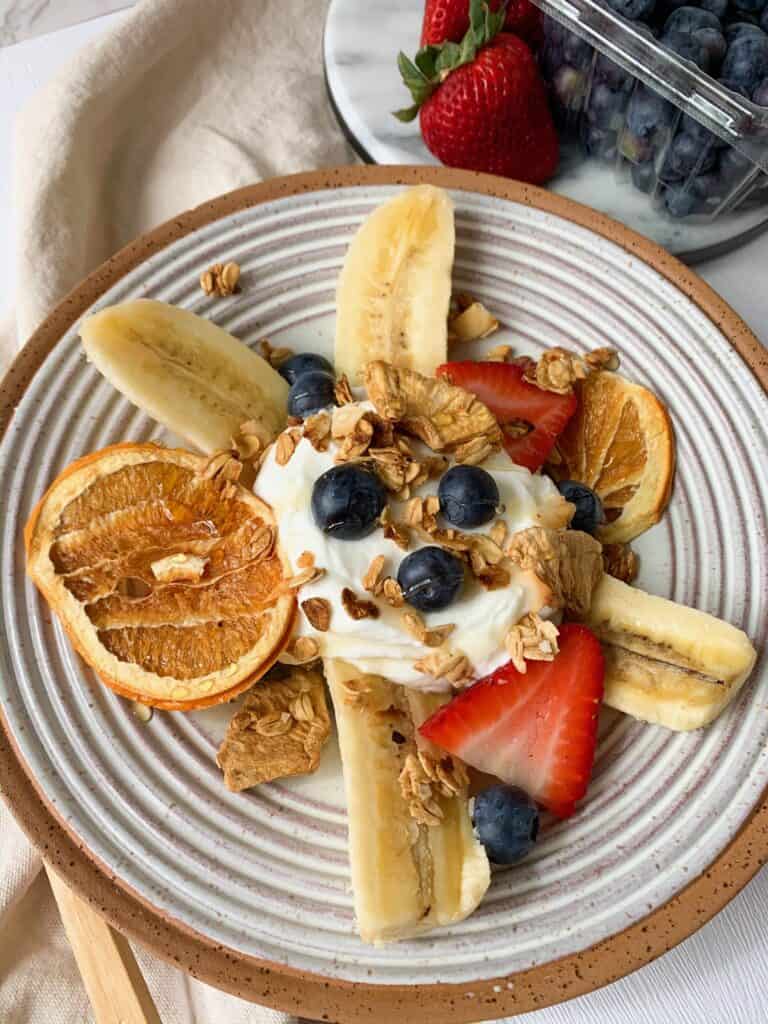 dessert for breakfast anyone? you can count me in on this one! this breakfast banana split recipe is the perfect way to get your daily dose of protein, carbs and healthy fats. not only that, you'll feel like you're eating dessert in every spoonful. sounds like a win-win to me!
now, i have to be honest…i was never a huge fan of banana splits growing up. i was more of a hot fudge sundae kinda gal, but THIS breakfast banana split has changed me. i guess i was too young to appreciate the complexity of all a banana split has to offer! but this recipe…i wouldn't mind eating this bowl on the daily, especially for breakfast!
i have always loved greek yogurt and that's what i use for the base of this entire dish (and the bananas of course!). the greek yogurt is full of protein and probiotics. keeping you full all morning long without counting down the minutes until lunch time. i know we all have been there! not only that, but by topping the yogurt with healthy carbs from the granola + fresh fruit, this bowl will keep you satisfied even longer. important note : the granola only uses honey as a natural sweetener so there is no need to worry about any processed or unnecessary ingredients.
worried you don't have enough time to make this? keep on reading to find out how simple it is and what ingredients you need to make this healthy breakfast recipe in your busy day! once you make it, you won't want to go back to life without it.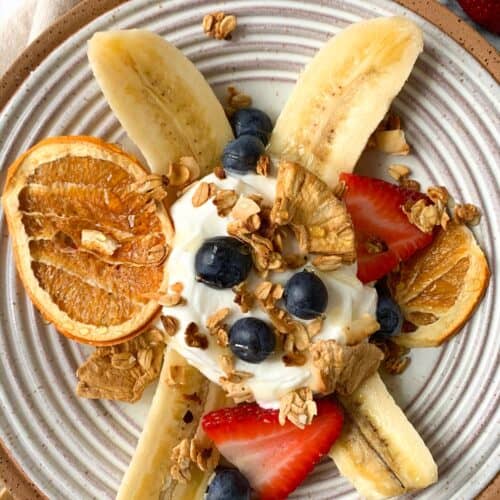 breakfast banana split
want to have dessert for breakfast without any guilt?! this recipe is for you. full of healthy ingredients, protein, carbs and nutrients to keep you full throughout the morning. you won't need to grab any snacks to hold you over until lunch again. now, let's make some dessert…i mean breakfast!
Ingredients
toasted coconut honey granola (makes 4 servings)
1

cup

rolled oats

1/2

cup

coconut flakes

i use bob's red mill unsweetened

2

tsp

vanilla extract

2

tbsp

honey

melted for 30 seconds
breakfast banana split (1 serving)
1

cup

greek yogurt

i use 0% fat fage plain

3

strawberries

rinsed + sliced

1/2

cup

fresh blueberries

rinsed

1

banana

sliced in half

honey

drizzle on top
Instructions
granola
preheat the oven to 350 degrees F (325 if you have a strong oven)

in a large bowl, mix the rolled oats, melted honey, coconut flakes and vanilla until fully combined

spread in an even layer on a baking sheet that is lined with parchment paper

bake for 10 minutes then mix up the oats to avoid burning

flatten in an even layer again and put in the oven for an additional 5 minutes

remove from the oven and let cool

once cooled, break up into chunks + pieces for the granola topping
breakfast banana split
slice the banana in half and place in your desired bowl / plate

top the banana with the greek yogurt, fruit and granola

top it all of with the honey drizzle and ENJOY!
Notes
the granola makes 4 servings so that you can save the rest for mornings the rest of the week!
granola storage :

you can store the leftover granola in a ziploc bag, mason jar or other sealed container

you will want to make the bowl fresh every day so that the bananas don't turn brown and granola doesn't get soggy sitting in yogurt 
it takes less than ten minutes to prepare each morning after the granola is made, the benefits of this dish are 100% worth it
honey replacement : you can replace the honey with maple syrup, agave or your preferred sweetener
notes / tips
meal prep friendly : make the granola on the weekend to make your bowl prep easy each morning during the week
my favorite toppings : blueberries, strawberries, granola, honey drizzle but you can switch these up to fit your preferences
if you liked this recipe, you will also like my almond joy overnight oats and healthy cinnamon toast for other healthy breakfast recipe ideas