this honey oat granola recipe uses only 4 main ingredients. it tastes BEYOND delicious and is the perfect on it's own or as an addition to your breakfast bowl.
i am cocoNUTS for this recipe, it is so so SO GOOD. not only that, it is by far one of the easiest granola recipes you could ever make! from the prep to the cleanup, it is all a breeze. not convinced yet? you don't even need a bowl to make this delicious honey oat granola. you may be wondering how could this be possible, but just wait and i'll get to that shortly.
this no-bowl granola recipe is the perfect breakfast if you want something simple. not only that, it's a delicious way to start your day. however, one of the most important questions is...what makes a granola good by your standards? For me, a good granola has the biggest and best chunks. NO SKIMPING HERE FOLKS! with this recipe, you'll have all the granola chunks you could have ever dreamed of!
are you ready to find out the secret ingredient to this AMAZING honey oat granola? keep scrolling and try it out for yourself!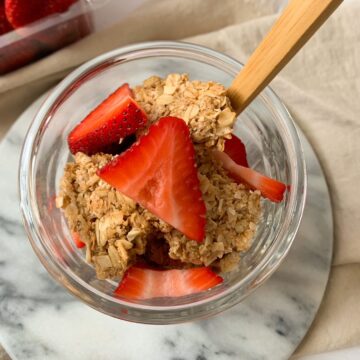 honey oat granola cereal
sometimes you just want a bowl of granola with milk and there is NOTHING wrong with that! i used to think granola was always unhealthy but this recipe is anything but! you only need 4 main ingredients, it tastes BEYOND delicious and you probably already have them right in your kitchen!
Equipment
food processer (the secret KEY to this crunchy granola cereal recipe)
Ingredients
1.5

cups

rolled oats

½

cup

coconut flakes

unsweetened

¼

cup

honey

1

tbsp

coconut oil

melted

½

tbsp

vanilla extract

2

tsp

cinnamon

ground
Instructions
preheat the oven to 300 degrees F

add ½ cup of rolled oats into your food processor. grind until it creates a fine oat flour texture

add in the rest of the oats, shredded coconut, melted coconut oil, honey, vanilla extra and cinnamon

pulse 5-8 times until fully combined

line an 8x8 baking dish with parchment paper and spray with non-stick spray

spread the granola mixture into an even layer and flatten with a greased spatula

bake in the oven for 15 minutes then turn the tray to bake evenly on all sides

remove from the oven to cool for ~2 hours

once completely cooled, break into chunks and enjoy!
Notes
tips
use coconut oil spray on the spatula to flatten the granola mixture with ease (neutral flavor + already used in the recipe)

granola cooling : this step is vital in getting a crunchy granola as well as those big clusters that we all love
honey can be swapped for maple syrup to make it vegan
for the food processor anything that fits 5+ cups would be perfect, i use the Cuisinart 14 cup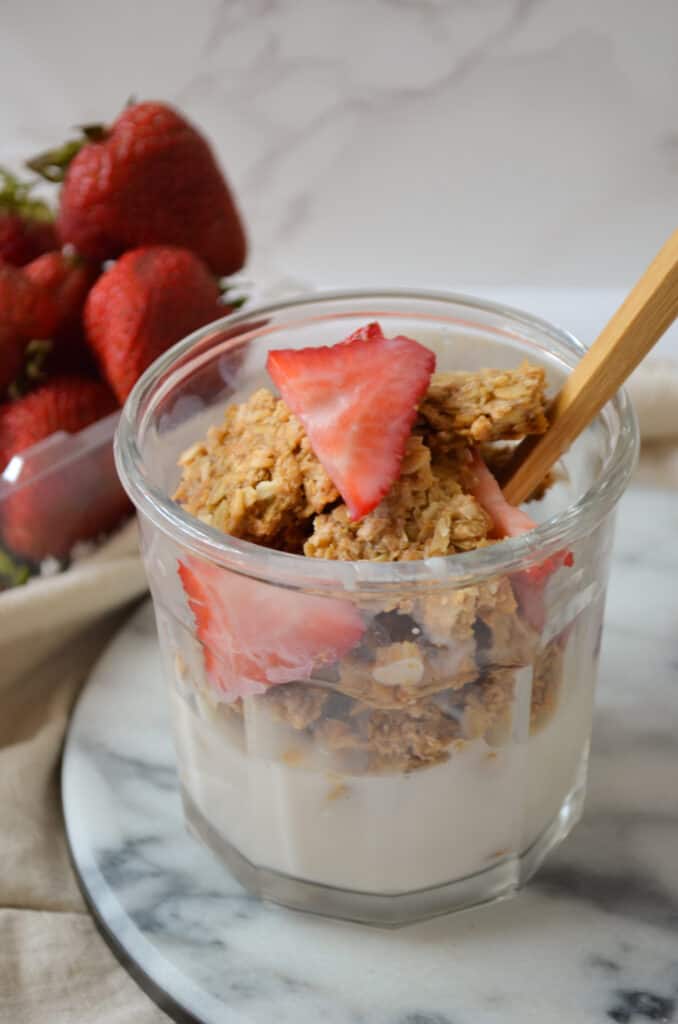 tips + tricks
toppings : fresh fruit (strawberries, blueberries and banana slices), nut butter, extra coconut flakes, honey drizzle
served with : almond milk, greek yogurt or even plain (i am fully guilty of just snacking on it!)
if you liked this recipe, you will also like my high-protein smoothie bowl and breakfast banana split recipes
please leave a rating + comment after you try this recipe, it is appreciated more than you know!