the ultimate pumpkin dessert! these white chocolate pumpkin bars have macadamia nuts and are the perfect treat to enjoy during the holidays.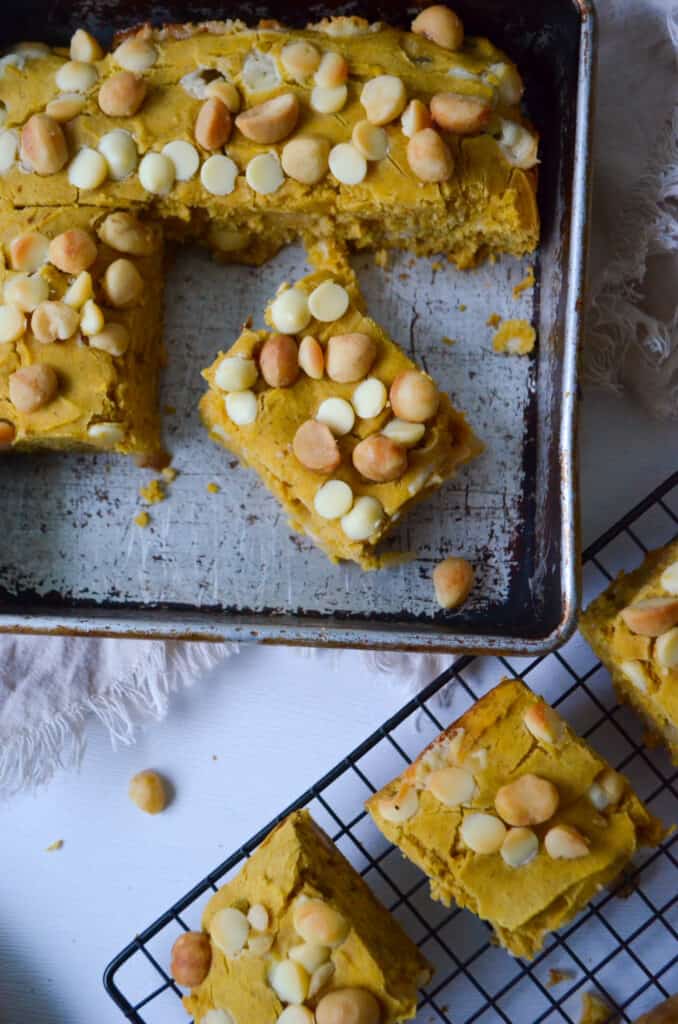 these are one of the best pumpkin treats that you will come across all season! filled with crunchy macadamia nuts and melty white chocolate chips, you will be in heaven. the white chocolate chips add the perfect amount of sweetness and the macadamia nuts add a perfect, salty crunch in each bite. combined with the subtle but present pumpkin, you have a trio that is meant to be. so who's ready to make these easy pumpkin bars?
these are the best pumpkin bread bars and i'll tell you why!
it's got PUMPKIN!
a cross between a bread and cake texture (not too heavy but not airy)
delicious cinnamon and nutmeg flavors
rich from the white chocolate chips throughout the batter
the ultimate crunch + salt factor from the dry roasted macadamia nuts
you can eat it in your hand without a fork!
why should you make these pumpkin bread bars?
such a good question and i'm so glad you asked! besides the notes above, there is more to say about these bars! some people might be thinking why not just make a pumpkin cake? because this is different! a pumpkin cake is much more delicate and harder to hold in your hand. this cross between a pumpkin bread and cake is the perfect way to have the BEST OF BOTH WORLDS! and it is also incredibly delicious with the additions of white chocolate and macadamia nuts. i would go as far to say that it's an elevated pumpkin dessert.
how to make pumpkin bread bars
grab a large mixing bowl and let's get to it!
mix all of your dry ingredients together in a bowl
add in your wet ingredients one by one, mixing until combined each time
fold in the macadamia nuts and white chocolate chips
spread in an even layer into a square, 8x8 baking dish (greased and lined with parchment paper)
add the remaining macadamias and white chocolate chips on top
bake at 350 degrees F for ~30 minutes
let cool and enjoy!
if you're on a pumpkin kick like myself...try out these pumpkin favorites!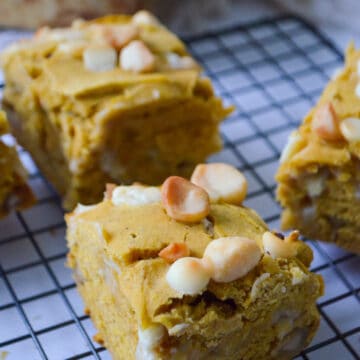 the best pumpkin bread bars
is it a bread? is it cake? it's BOTH! it's the best pumpkin bread bars that you have ever had. filled with delicious white chocolate and dry roasted macadamia nuts throughout, this is sure to be a crowd pleaser. and did i mention unique? you won't have to worry about clashing with anyone else for this pumpkin dessert.
Ingredients
2 ½

cups

gluten-free flour

1

tsp

baking powder

1

tsp

baking soda

⅓

cup

monk fruit sweetener

regular

⅓

cup

monk fruit sweetener

golden

½

tbsp

pumpkin pie spice

1

tsp

ground cinnamon

1

egg

¼

cup

brummel & brown yogurt spread

softened

1

can

pumpkin puree

½

tbsp

vanilla extract
Instructions
preheat the oven to 350 degrees F

in a medium-sized mixing bowl, add all of the dry ingredients and mix together

in a separate mixing bowl, whisk your egg and then add the other wet ingredients

mix all of the wet ingredients together until fully combined

add the dry ingredient mixture to the wet ingredients slowly and then mix until fully combined

fold in 2 packages of dry roasted macadamia nuts and ½ cup white chocolate chips

line a 8x8 baking tray with parchment paper and spray with non-stick spray

pour the batter into the tray and spread in an even layer

top the batter with 1 package of dry roasted macadamias and the last ¼ cup of white chocolate chips

put into the oven and bake for 30 minutes, rotating halfway through the baking time

remove from the oven and let cool before slicing

once cooled, slice in 9 pieces and enjoy!
substitutions for ingredients in these easy pumpkin bars
sugar substitution - you can replace both monk fruit sweeteners with regular granulated sugar and brown sugar
egg substitution - to make the recipe vegan/plant-based, replace the egg with a flax egg
butter substitutions - you may replace with regular or vegan butter to cater to your personal preferences
flour substitutions - substitute with regular all-purpose flour if preferred. this recipe has not been tested with almond, coconut or oat flours
tips and tricks
be sure to not overmix the batter!
you know the bars are done when you stick a tooth pick in and it comes out clean
best to let cool before slicing as that may cause the bars to fall apart
if you liked this white chocolate pumpkin bars recipe, you should also check out my other fall-favorites. such as my healthy cornbread muffins and baked apple donuts for more seasonal treats and also top recipes on my blog!