Bringing this AMAZING flourless blondies recipe to you just in time for Valentine's Day! Whether you're spending it with your significant other, best friend, family or the most important person in your life (YOU!), this recipe is sure to be a crowd pleaser.
I have always wanted to make a healthy version of blondies and you won't believe the secret ingredient that makes these beauties flourless, healthy and still DELICIOUS! …Chickpeas are the secret ingredient to making this the perfect healthy valentine's day dessert. They are packed with tons of nutrients and plant protein but the best part is that you can't even taste them in the batter.
So here we go people, grab the ingredients below and let's make some Valentine's Day magic happen!
Ingredients
15 oz can of chickpeas, rinsed and drained
2/3 cup all natural peanut butter
1/3 cup of maple syrup
3 tsp vanilla
1/4 tsp baking soda
1/4 tsp baking powder
1/2 tsp salt
chocolate chips, NO LIMIT as always 🙂
Directions
Preheat your oven to 350 degrees F and line an 8×8 pan with parchment paper
Using a food processor or blender, add all the ingredients EXCEPT for the chocolate chips and mix until fully combined
Taste the flourless blondies batter for good measure but try not to eat it all!
Pour the batter into a mixing bowl and fold in as many chocolate chips as your heart desires
Spread the flourless blondies batter equally into the baking dish and top with more chocolate chips for good measure
Baked for 20-25 minutes depending on your oven, mine took about 23 minutes and it's pretty strong!
Let cool slightly (if you have that kind of restraint) or dig right in and enjoy!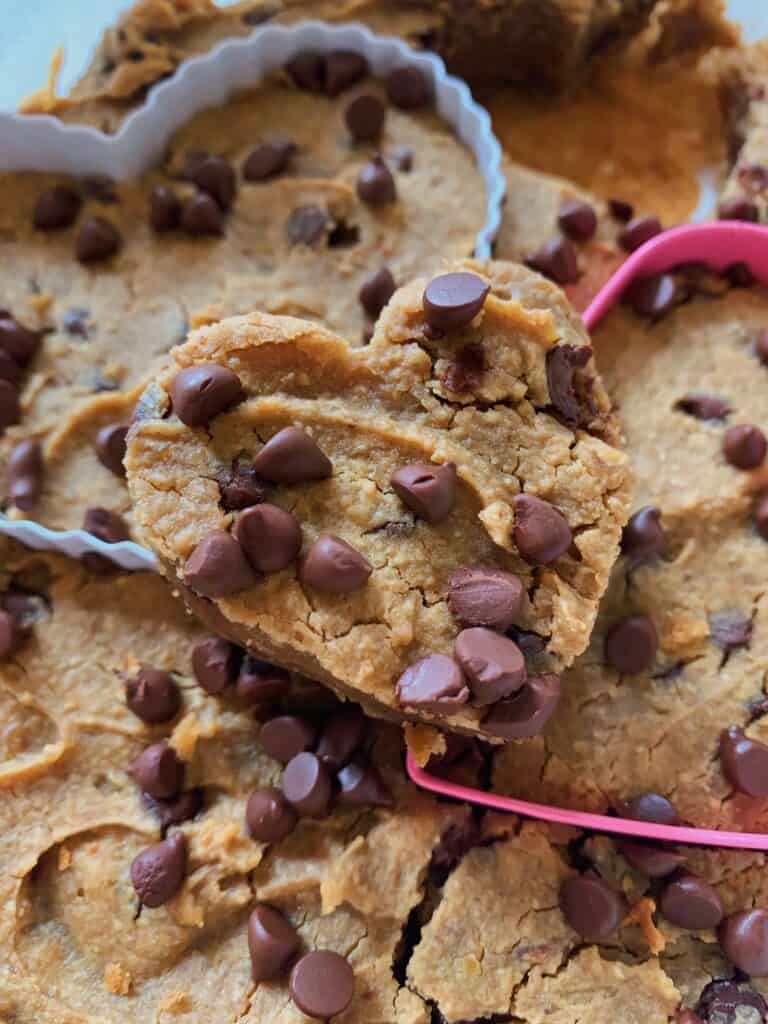 Notes
You can swap the peanut butter in these flourless blondies for any nut or seed butter that you prefer
Twist : try adding cinnamon for some extra pizazz in every bite!
Don't overbake, you want the gooey chewy center that your typical blondie has
Make sure the chickpeas are rinsed and drained well! I also get the no salted added can of chickpeas but regular will still work, just make sure to rinse thoroughly.
You can sub the maple syrup for honey if that's all you have on hand
If you enjoyed this recipe, you will also like : Healthy PB Cups, Cinnamon Apple Loaf and (ESPECIALLY!) my Healthy Fudgy Brownie Loaf.