heart shaped gf bluebbery muffins are perfect for a healthy, valentine's day treat
gf blueberry muffins are the perfect, nutritious breakfast or snack to have on hand. if you're looking to add extra veggies to your family's diet, this recipe is perfect. you can't even taste the zucchini!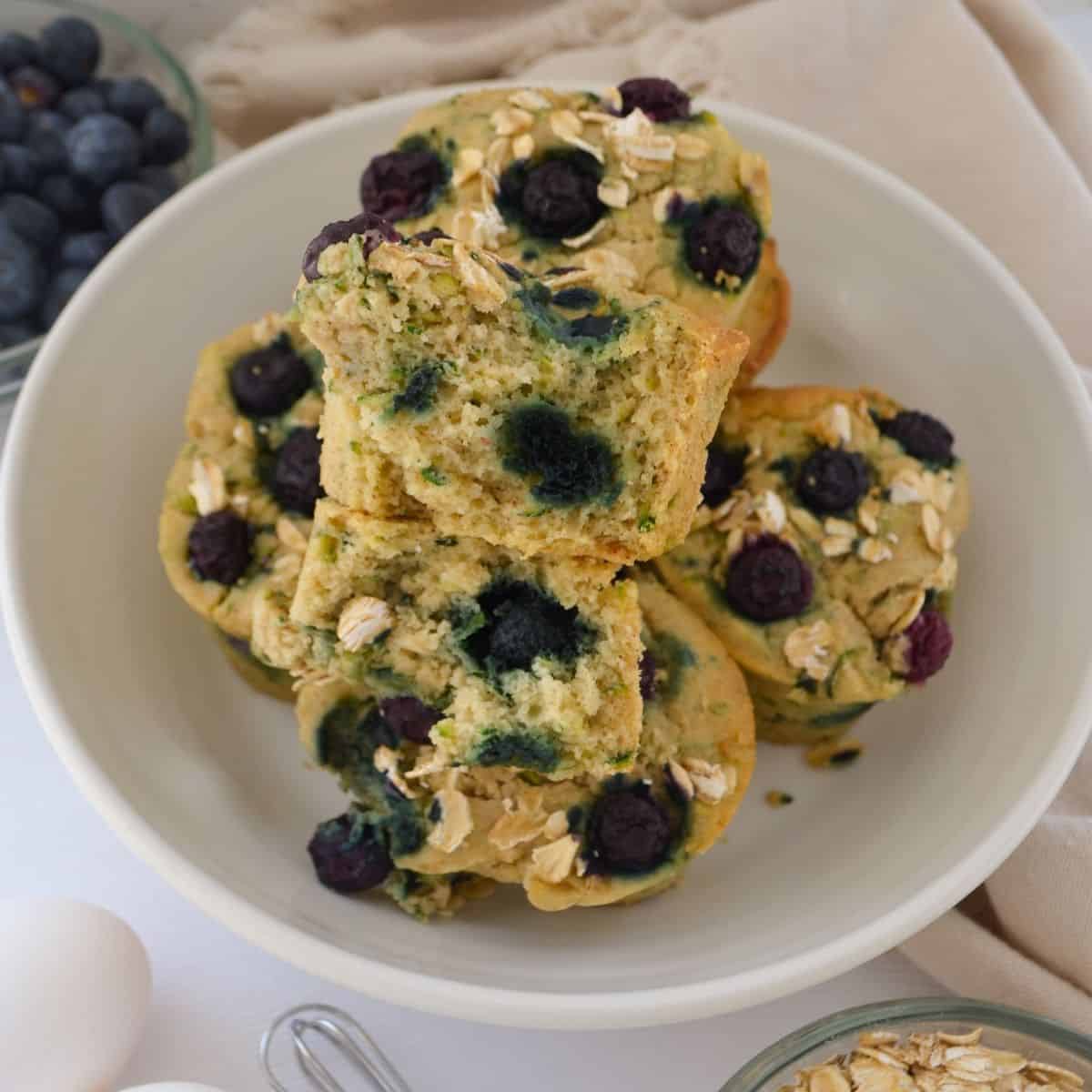 a great recipe to make for this upcoming valentine's day. whether you want to start or end your day with one of these muffins, the choice is yours!
these muffins are both nutritious and delicious so you never have to feel guilty after eating one...or two.
i decided to make these muffins into a heart shape for valentine's day but you can make them in a regular muffin tin. i promise they are just as enjoyable!
main ingredients in gf blueberry muffins
brummel & brown yogurt spread, softened (or use preferred butter of choice)
egg whites
almond milk, unsweetened
blueberries, fresh or frozen
zucchini, grated
health benefits of blueberries and zucchini
blueberries have a ton of healthy nutritional value, including a heave dose of vitamin c. in addition, they are heart healthy while also supporting bone/skin health.
zucchini is a sneaky veggie in this muffin recipe but it plays an important role. nit make these muffins incredibly moist. in addition, they are rich in nutrients and high in antioxidants.
how to make heart shaped zucchini muffins
you will need a heart shaped muffin tin or need to get crafty. if you don't have a heart-shaped muffin tin, don't worry! you can still make your muffins in a heart shape to celebrate valentine's day or if you're just in a loving mood.
take your muffin wrapper and use a little ball of foil to form the heart shape. you will place the foil at the top which creates the indent that we typically see at the top of a heart.
you can also review this blog post for a more detailed instruction.
frequently asked questions
how do i grate the zucchini for these muffins?
cut off the ends of the zucchini and rub it against the shredder side of a box grater. make sure to not use the smallest size slicing holes as that will cause the zucchini to have a more mushy texture.

i use the medium/large sized slicing holes so that the zucchini remains distinct without making the batter turn green.
should I peel zucchini before shredding?
do not peel the zucchini before shredding. it may be tempting but it's an unnecessary step and you won't notice the peel once baked.
what makes for a light & fluffy muffin?
the egg whites, yogurt spread (or preferred butter choice), and almond milk at room temperature creates smooth mixture. these factors create a light & fluffy muffin.

i also found that using a silicone muffin tin keeps the muffins much fluffier and lighter than your typical muffin tin.
why is there zucchini in this recipe?
besides sneaking some extra veggies into your diet...the zucchini creates a moist muffin and you don't even taste it!
how should i store these muffins?
store in an airtight container for up to 7 days or freeze for up to 1 month
pin this recipe to make later!
related recipes
if you try this recipe, please consider leaving a rating + comment at the end of this blog post. It is incredibly helpful to my business and others who want to try the recipe!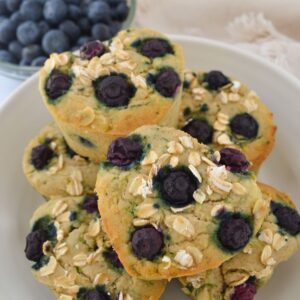 gf blueberry muffins
gf blueberry muffins are the perfect, nutritious breakfast or snack to have on hand. if you're looking to add extra veggies to you and your family's diet, you won't even taste the zucchini in the muffins!
Equipment
heart shaped muffin mold

optional

regular muffin tin

(if not using heart shaped)
Ingredients
¼

cup

egg whites

¼

cup

almond milk

unsweetened

¼

cup

monk fruit sweetener

or other granulated sugar

2

tsp

vanilla extract

2

tbsp

brummel & brown yogurt spread

softened

½

cup

gluten-free flour

½

cup

almond flour

½

tsp

baking powder

½

tsp

baking soda

1

zucchini

grated

½

cup

blueberries

frozen or fresh

rolled oats

for topping

extra blueberries

for topping
Instructions
preheat the oven to 350 degrees F

in a large mixing bowl add in your egg whites, softened yogurt spread, almond milk, vanilla extract and monk fruit sweetener

add in the gluten-free and almond flour along with the baking soda and baking powder. mix until fully combined

fold in your grated zucchini and blueberries until spread evenly throughout the batter

sprinkle some rolled oats on top of each muffin and add a few extra blueberries right on top

spray your muffin tin of choice with non-stick spray

add ¼ cup of batter into each muffin tin

bake in the oven for 20-30 minutes depending on your muffin tin (larger size or a silicone tray will take closer to 30 minutes)

rotate the muffins halfway through and remove from the oven when a toothpick comes out clean from the center of the muffin

let cool slightly and enjoy!
don't forget to tag me on instagram in your re-creations and to leave a rating + comment below!